As Oregon educators prepare to open schools this fall, they are searching for ways to give their youngest students quality education while keeping them safe in a pandemic.
That goal poses an enormous challenge if they physically open and an even bigger one if they don't and instead teach at a distance.
District administrators are preparing under state guidelines to keep students in small groups on campuses, stagger school time with distance lessons, or teach entirely online. If they do enter classrooms, teachers and most students will wear masks, distance from one another and avoid touching common surfaces.
All of these safety measures work against best education practices for preschoolers and kindergartners, who learn concepts and socialization through play, touch, and close interaction with one another and teachers. Preschool teachers wearing masks can't use facial expressions to help students sound out letters and words. They can't group children on the rug for reading. They can't let them explore the feel of water and sand on the sensory tables. And they can't expect preschoolers to observe all of their safety protocols.
"Trying to keep a bunch of 3-year-olds six feet apart — it's not even a reality," says David Mandell, policy and research director for the Oregon Education Department's Early Learning Division.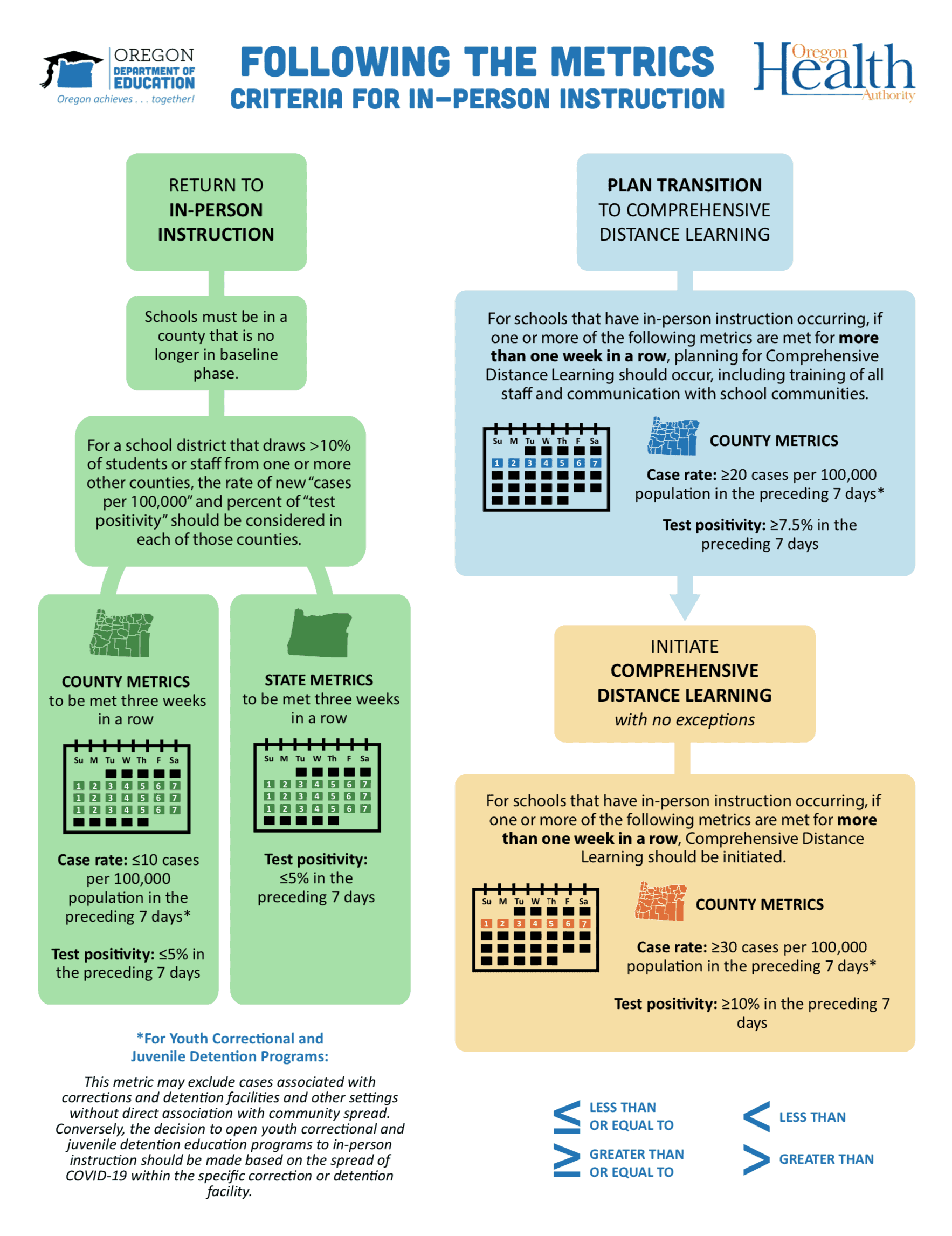 A page from ODE's school reentry guidelines reflect the complexity of reopening decisions.
Choosing distance
Many districts such as Portland, Beaverton, North Clackamas, Tigard-Tualatin and Salem-Keizer already have decided to teach remotely at least until mid-November.
Oregon Gov. Kate Brown has ordered schools to use distance learning until the state's coronavirus positive testing rate is at or below 5 percent for three weeks in a row. That poses even bigger challenges for teachers of preschool, kindergarten and primary grades.
"As a general rule, the younger the child, the more challenging distance learning becomes," says Mandell.
Megan Barber, teacher of 22 preschool students at Yoncalla Elementary in the hills 45 miles south of Eugene, can attest to that. When Oregon closed its schools this spring, Barber did her best to provide lessons to her remote students. She read stories and sang songs to them on Facebook. She prepared individualized "care packages" of educational materials for each student and delivered them to their homes, where she would talk with them and their parents. She talked to her students on FaceTime. She sent them notes and birthday cards. But it was never enough.
"What we do in the classroom is magic," says Barber, "and you can't replicate that with technology."
Barber this fall will be entering her fifth year as teacher of a public preschool created with help from Early Works, an initiative of the Children's Institute supported by The Ford Family Foundation in Roseburg. The project, launched 10 years ago, is helping Yoncalla School District pool resources with other public and private groups to build a coherent education program for every child in the Yoncalla attendance area from birth to age 8. The goal is to ensure those children are prepared for kindergarten and later success in school and life.
One of them is four-year-old Rosemary King, who completed her first year of preschool listening to Barber read stories on Facebook while her mother, Mary King, helped her with educational activities at home. Mary King says she's fortunate to be able to be home with Rosemary, whose father William King works nights outside the home. But she says she just can't give her daughter the quality of education she was getting in Barber's class.
"I watched her flourish," she says. "I watched her come out of her shell and be part of a group."
King hopes Rosemary can go back to Barber's class for the full 5.5 hours, four days a week.
"The social interaction at her age is so important to learning that I feel like taking the kids out of school is hurting more than helping," she says. "I hope there will be an option for the kids to go to school at least a couple days a week."
If not, King plans to join forces with some other Yoncalla parents to teach their children in a group. She does have concerns about COVID-19, particularly because Rosemary has a restricted airway disease that puts her at higher risk for upper respiratory complications.
"It is always a worry, but I have a lot of faith in this school that they will be taking the precautions," she says.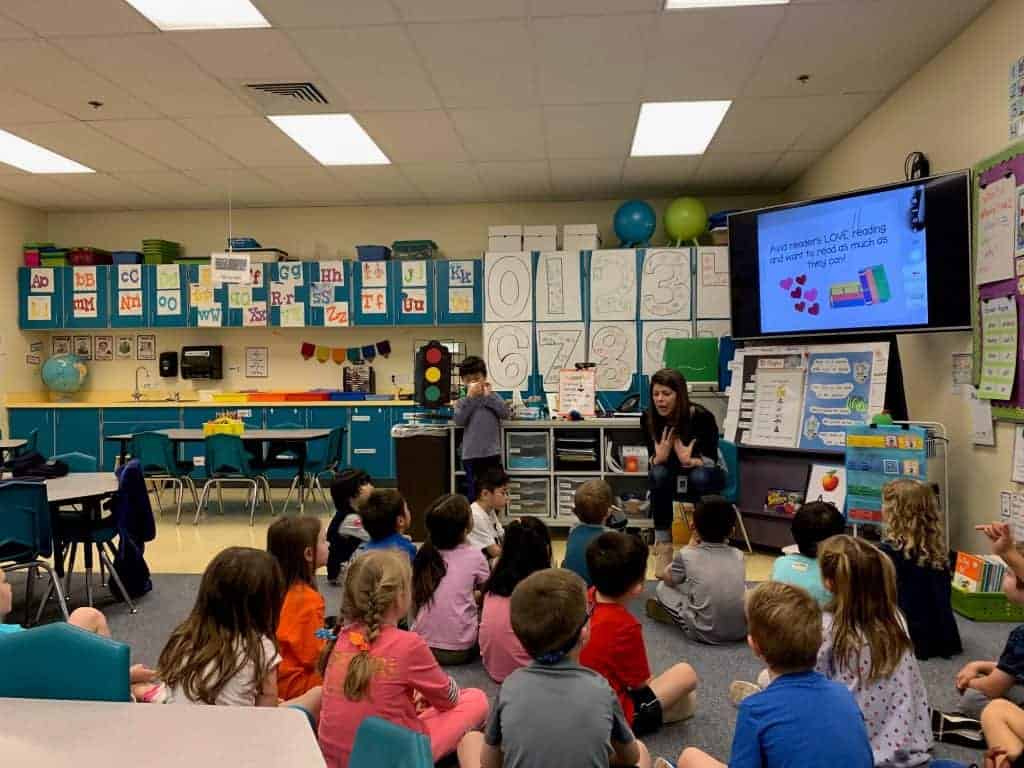 A classroom in the Beaverton School District before the coronavirus pandemic.
Giant test
Many education leaders say figuring out how to sustain education in a pandemic poses the biggest test of their careers. Beaverton School District Superintendent Don Grotting says this "is the most challenging time I've ever had" in 24 years as an administrator. "I've never seen people work so hard. I've never seen people have to pivot so quickly."
Kayla Bell, Beaverton's elementary administrator for curriculum, instruction and assessment, agrees. "There is nobody on the planet that can give you advice," she says.
Ericka Guynes, principal of Earl Boyles Elementary in Southeast Portland, which offers preschool to 102 students and is also an Early Works partner, says that planning for the fall has been difficult and surreal. Even so, she's looking for ways to improve.
"We have an opportunity to really innovate, too," she says.
Uncertainty clouds everyone's decisions. Some research suggests children under 10 do not easily contract or spread the virus, though it is inconclusive, and conflicting research shows children are highly contagious. Virus infections have surfaced in some Oregon child care centers. Lake Grove KinderCare in Lake Oswego had an outbreak of 29 cases in June, and Oregon Child Development in Nyssa and Hall Boulevard KinderCare in Tigard each had five cases this summer.
No one knows how well Oregon will be able to contain the virus by fall. Some teachers, particularly those older or with medical problems, are wary of returning to classrooms. Parents' opinions cover the spectrum, says Mandell, whose division surveyed 3,600 parents.
Some insist the virus is no worse than a cold and want school, sports, and activities fully restored, says Mandell, while others say "there is nothing a state agency could do to make me feel safe putting my child in child care" or preschool.
Birdie Wermy, a project director for Northwest Portland Area Indian Health Board, is getting help from her retired parents while her son, 4, and daughter, 7, attend preschool and second grade online. While Wermy works out of her home, her mom, who lives nearby, will help her children with their distance learning this fall. Her son will be attending Tualatin Elementary's preschool, which will be online for at least eight weeks. Even if school opens later, Wermy will be reluctant to send her children to school and risk having them bring COVID-19 home to her parents. But she also worries about the quality of education they're getting online.
"I know that my son would probably do better in an actual classroom setting and being around other kids," she says. "In the back of my mind, I ask "what is this going to look like five years from now? Is there going to be this huge cohort of children who were 2020-21 preschoolers basically left behind because they didn't learn their basics before kindergarten?"
State guidelines
BothOregon's Department of Educationand its Early Learning Divisionhave issued guidelines, 29 pages for young children and 46 pages for older ones, on opening schools this fall. They provide requirements and suggestions for a range of activities, including family engagement, group size, personal protective equipment, student drop-offs, food, hand washing, and response to confirmed virus cases. 
Each school is expected to follow guidelines in developing a plan, or Operational Blueprint for Reentry. That poses an enormous task for small districts with a handful of administrators working summer months. Adding to the complexity, guidelines are being revised as the summer unfolds, according to how the virus spreads. In its latest version, released last week, the state told districts that they should prioritize in-person instruction for special education students, English language learners and other groups, even if county-wide cases are not low enough to allow a return for all students to the classroom.
"I can tell you from a small, rural school perspective, the guidelines are totally overwhelming," says Brian Berry, superintendent of Yoncalla School District. 
Most parents in Yoncalla want to see the schools open classrooms for students in September, he says. That's what Barber wants too. She says she's never missed her students so much as after the state closed her school. 
"I'm so grateful to go back," she says. "I don't care what it takes, what regulations we have to put in. Just so I can see them."