This page serves as a hub for resources and guidance on racial justice and equity issues that connect to early childhood. It's not comprehensive, but we will continue to add to and update this list. Have a resource to recommend? Email communications@childinst.org.
Advocacy & Thought Leadership
Classroom & Parent Resources
| B | A |
| --- | --- |
| RESOURCE | Use the arrows on the far right of this table to sort by type. | TYPE | CR= Classroom Resource GR= General Resource PR= Parent Resource) |
| The 2020 Crane Center Symposium for Children dives deep into anti-bias and anti-racist practices for early childhood settings, led by renowned researchers and practitioners in this field, including CI's own Senior Education Advisor, Soobin Oh. Highlights and recording now available through link. | GR, CR |
| Anti Bias Leaders in Early Education resource page. | GR, CR |
| From NPR: 'Raising White Kids' author on how white parents can talk about race. (7 minute-listen with transcript.) | PR |
| Education Week offers a set of classroom resources for discussing racism, policing, and protest. | CR |
| A wealth of equity-focused resources from NAEYC. | CR |
| Reading is Resistance. Portland-based effort to support kids reading for social justice/anti bias. | CR, PR |
| New York Times book List and other resources for kids | CR, PR |
| Are your kids too young to talk about race? Great infographic. | CR, PR |
| A resource for adults talking with children about race and racism from Raising Race Conscious Children. | CR, PR |
| How white parents can talk about race. NPR | PR |
| Racism, the ultimate underlying condition. Health Equity | GR |
| The Museum of African American History & Culture in Washington DC's early childhood page, including resources and guidance. | GR |
CR= Classroom Resource
GR= General Resource
PR= Parent Resource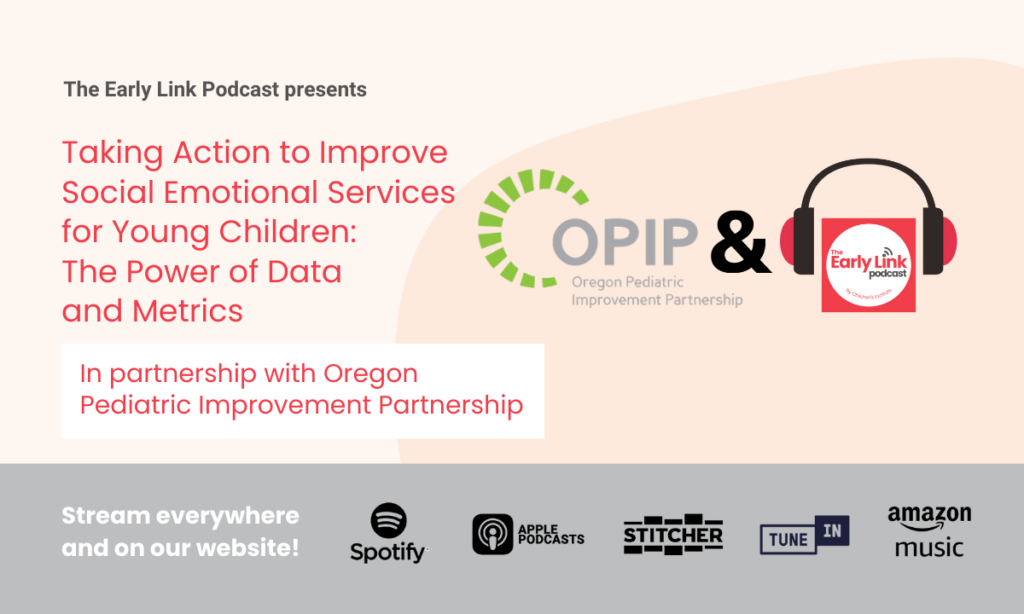 Taking Action to Improve Social Emotional Services for Young Children: The Power of Data and Metrics
This is a special production created with our colleagues at the Oregon Pediatric Improvement Partnership (OPIP). OPIP is a public private partnership seeking to create a meaningful, long-term collaboration of stakeholders invested in child health care quality, with the common purpose of improving the health of all children and youth in Oregon. This episode explores recent developments in the health sector here in Oregon meant to improve the care for children ages zero to five.