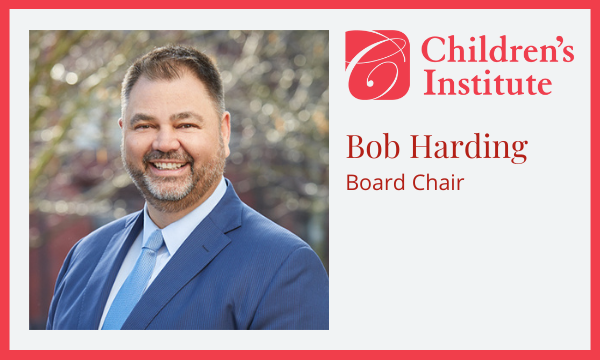 Children's Institute is pleased to announce its new board chair, Bob Harding. Harding succeeds John Tapogna, who served as chair since 2019.
Harding is the president and chief operating officer of Pacific West Bank, leading the bank's strategic direction and running day-to-day operations.
"Since I've met him, Bob's commitment to Oregon's kids and the future of our state has been so evident. His deep personal connection to our mission, as well as his wealth of experience as a leader, will be invaluable as we work to ensure that families across the state are supported to thrive," said Kali Thorne Ladd, Children's Institute's chief executive officer.
Harding also currently serves on the boards of Educational Opportunities for Children and Families (EOCF), Oregon Bankers Association (OBA), and Bit by Bit Horse Therapy. 
"I'm honored and excited to lead the board at Children's Institute, working toward a socially just and equitable Oregon where all children have the love, care, and education they need," Harding said. "As a child, I had an opportunity that changed my life: preschool. I was a Head Start student, and that experience gave me the foundation to succeed in kindergarten and in school. As I got older, it helped me grow and learn and provided a safe, nurturing environment. I was the youngest of four children whose father had left the family, so Head Start also allowed my mother to work. Our whole family benefitted from that opportunity, and we would not be where we are today without it. The importance of a child's early years cannot be overstated, and I'm glad to join Children's Institute in building and strengthening a seamless system of support for kids and families across the state."
Harding shared more about his personal connection to Children's Institute's work in this 2019 episode of The Early Link Podcast: A Trip Down Memory Lane at Orchards Head Start
About Children's Institute
Children's Institute (CI) is a policy, advocacy, and research organization working toward a robust and seamless early childhood system in Oregon. All children are born precious, powerful, and full of potential, but many young children experience barriers to opportunity due to racism, economic injustice, geographic isolation, and other systemic inequities. These same children often lack access to programs and services that strengthen early learning and healthy development. CI leverages research, practice, policy, and advocacy to shift systems toward justice for families so that all Oregon's children, prenatal to grade 5, have access to opportunity.
In 2022, we are focused on strategies to address the growing literacy crisis across the state, and will continue to advocate for policies that both expand access to quality early childhood programs and address the need for public investment in adequate child care facilities.
Related Links
Children's Institute's Board of Directors