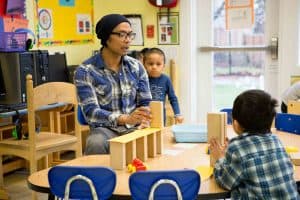 Senate Bill 182 would help early educators across the state access professional learning to increase the quality of early education. The bill would also allow K-12 schools to coordinate more with local preschools to ensure high-quality and seamless education in the state. In this podcast, Children's Institute President Swati Adarkar and Chalkboard Project President Sue Hildick discuss Senate Bill 182, what it would do for early childhood education, and other opportunities for improving education with a focus on systemic change.
Segment Highlights
0:53 "This bill really is about elevating the role of the teacher in the classroom and the leader in the school as we look at how to transform our education system," Sue Hildick says.
1:47 SB 182 "both elevates the investment we're making and it better organizes how these dollars are spent," Hildick says.
2:22 "Right now, we're delivering a lot of one-subject professional development across the entire school district for everybody. We haven't really been able to get to a place where professional development is tailored to a teacher's needs." Hildick says. This bill would change that.
3:35 "It's an exciting point in time in Oregon for us to be thinking about these intersecting points and connections between early learning and K-12," Swati Adarkar says.
6:23 "We're at a unique moment in time when we are building anew … what we need to do is step back and look at the early learning space and how that becomes really seamless," Hildick says.
8:57 "We've made some good strides in serving more kids but we still have a long way to go … we're excited that the governor considers high quality preschool a priority," Adarkar says.
11:10 "We're really working on how to grow skill sets and instructional practices around equity," Hildick says.
13:14 "Early educators have been underpaid so dramatically for such a long time…. What we know is that quality teacher-student interaction is sort of the core and heart of what leads to improved outcomes. So if we're not supporting educators to really have their professional development supports, we know we're not going to get there over time," Hildick says.
14:48 "The potential is enourmous. We know that the teacher in the classroom has the most impact on what a child learns in a day, followed by the leader in the school … this bill creates sort of a covenant with educators. They are being invited to the table…." Hildick says.
15:49 "Think about why teachers go into the profession to begin with and the barriers that we've put in their way to really achieve and accomplish what they want with children. I think it's really about meeting educators' needs and inviting them in to the conversation around solutions. We often haven't had a chance to do that." Adarkar says.
18:34 "There's probably no better investments than these investments … these are heavily researched, heavily evaluated, we know very clearly the impacts of investing in the workforce on the outcomes that children experience," Hildick says. Those practices include providing teachers with mentors and collaboration time for teachers to problem solve together outside of the classroom.
19:39 "For most child care providers and educators in preschool, the notion of having a substitute or a backup or planned time is often nonexistent," Adarkar says. "We need to think a little differently around the delivery mechanism for this" so that children across the state can have access to high-quality preschool.
20:49 "I think professional learning would look very different in every one of our 197 school districts … What I'm hoping 182 is going to do is open up some of that thinking and create opportunities for deeper professional learning," Hildick says. "We have some wonderful professional development going on but again, it is largely episodic. It's not embedded and systemic."
21:39 "Systemic approaches is absolutely the point at which we are at in the state … little pieces and parts across the state is not going to move the dial in terms of statewide graduation rates," Adarkar says.
21:52 "We've got to think about bridge building. The bill gives us a framework from which to work from but still the reality is going to be on the ground," Adarkar says.