In 2010, Earl Boyles became the first site for Children's Institute's community-centered Early Works initiative, an approach to early learning and healthy development built on partnerships, innovation, and engaged families. From the beginning, the goal was to provide high-quality early learning opportunities for young children before they started kindergarten, alongside meaningful support for parents and families before and during elementary school.  
Early Works also sought to enrich the school community by bringing together existing community resources through the Neighborhood Center, a full-service resource hub for children and their families, which is housed inside of the school. 
Prior to Early Works, Earl Boyles was a designated SUN school. SUN, an acronym for Schools Uniting Neighborhoods, is an Multnomah County initiative focused mainly on providing wrap-around support for school-aged children. While SUN partners were a key part of developing the vision for the Neighborhood Center, the Early Works initiative specifically focuses on the needs of young children, birth to three. Working together, the partnership was able to reach a broader base of families with existing resources. 
Today, building on the partnerships and services supported by Early Works and the SUN program, the Neighborhood Center works to connect families with services, ensuring that child health, development, and learning are connected to the school beginning at birth. SUN community school manager, Erika Hernandez, explained the Neighborhood Center's approach to connect families with services, and how Early Works helps in facilitating partnerships.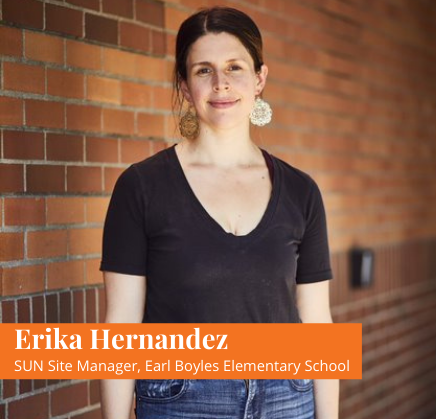 "We have a very proactive relationship with our preschool and early learning partners. We want to start developing relationships with families before their kids start school, and to make the Neighborhood Center accessible," explained Hernandez. 
"Some of the babies in our play groups have older siblings at the school, too. So, it's really about knowing the whole family, and without the playgroups or being an Early Works school, we might not see so much of that. This really gives us the chance to know the entire family," she said.
During the initial implementation of Early Works going back a decade, a community needs assessment was a crucial first step in building a program that would provide families with what they needed, in their own words.
To do this, Children's Institute partnered with researchers from Portland State University (PSU) to collect data and facilitate listening sessions. The results ultimately paved the way for the birth of the Neighborhood Center in 2015. 
Beth Green, director of early childhood and family support research at PSU, was the lead researcher for the first community needs assessment. Green explained, "The Neighborhood Center came out of a recognition that high-quality early preschool helps children develop skills and it's really necessary, but not sufficient, for ensuring long-term outcomes for kids." She added, "If you really want to continue to support them academically, and socially-emotionally, you need to make sure their families' basic needs are getting met."
Now, the Neighborhood Center is a collective of parents, service providers, community organizations, early learning partners, and policy and advocacy groups, working together to support child development and nurture healthy, stable families. It offers resource connection for families seeking rent and utilities assistance, basic necessities, systems navigation, parent education opportunities, and access to community health workers.
Marina Merrill, director of research and strategy at Children's Institute, reflected on how the school continues to support early childhood development by supporting families. "At Earl Boyles, we start at birth, knowing that families look to their neighborhood school for a range of support," she said. "Creating a school as a hub with services beginning at birth helps create strong pathways to support children's health and well-being. We know that engaging families and supporting their needs is also critical to ensure their children thrive."
Because of Earl Boyles' unique partnership with Children's Institute, and being an Early Works site, the school has built a culture derived from the perspectives of families, and has the ability to respond directly to the community's needs. And as the community continues to pivot in response to an evolving pandemic landscape, so too, does the Neighborhood Center.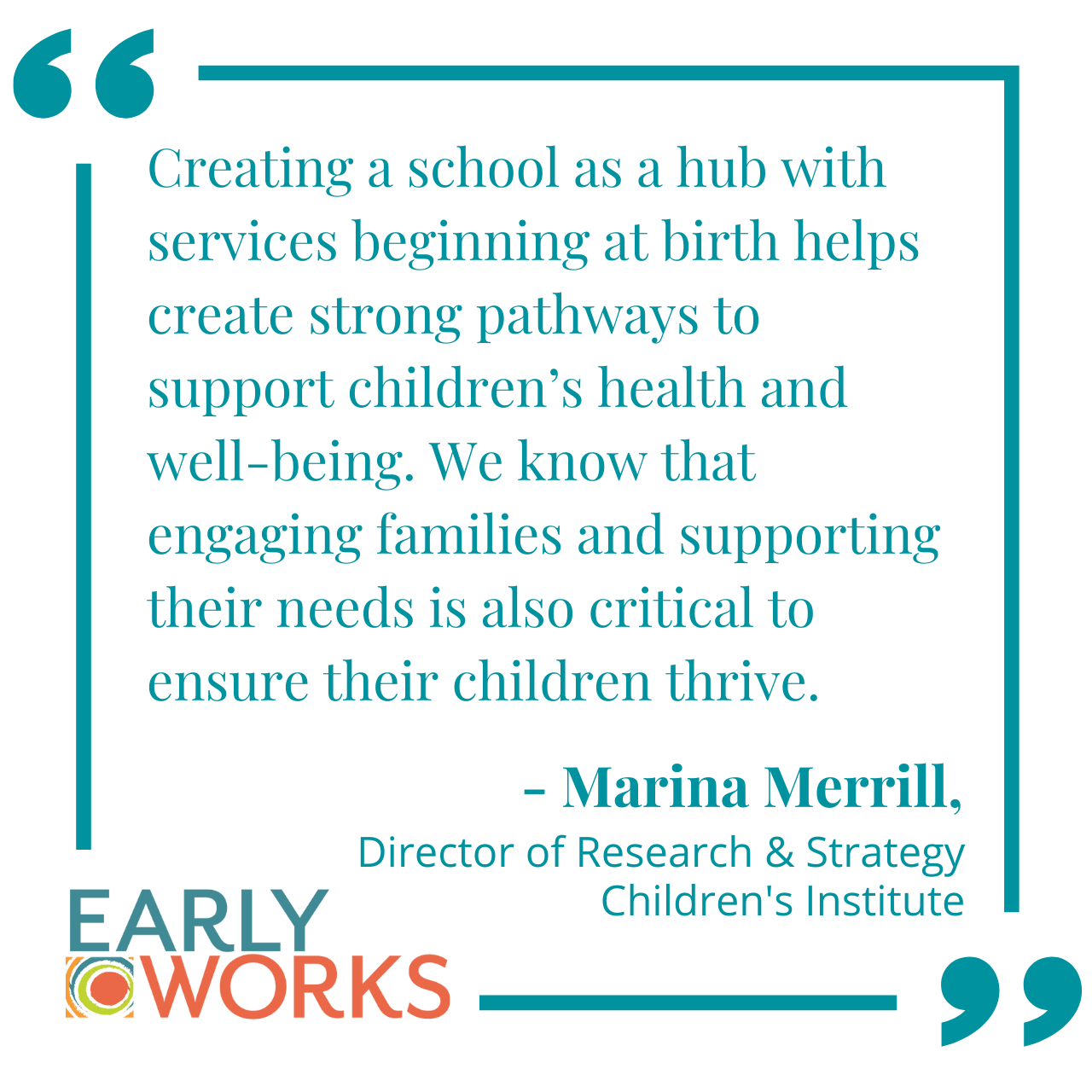 The staff has continued to support children and families through direct services through what they call Care and Connect Team referrals, which include a food pantry, emergency food boxes, and housing and utility assistance. 
Earl Boyles principal, Ericka Guynes, spoke to the ongoing impact that the Neighborhood Center has had on the school community, children and their families during the pandemic: "Even though we were not able to be in person, the case management and support continued. We were able to coordinate with our partners to continue to serve our community to support their needs." 
"The Earl Boyles Neighborhood Center has continued to support our community throughout this challenging time," she said, "and it shows what a community school can look like when everyone pulls together to make sure kids and families thrive."