​Shaquoya Richmond began serving three children at her Portland in-home child care facility, but didn't know what she'd do as her waitlist grew.
Though she wanted to expand her Southeast Portland facility, the small business owner didn't have the resources to do it on her own.
"My limitation was in knowledge," Richmond said. "It wasn't that I didn't have the space, it was just that I didn't know."
Enter Multnomah County, which provided Richmond with mentors to guide her in required training and certification and money to turn her basement into a fully functional preschool with more classroom space and an additional bathroom. The additions allowed her to transition her preschool from her kitchen and living room to the basement.
Today, the Richmond Learning Academy is one of Multnomah County's 36 providers in the inaugural year of Preschool for All, a program offering preschool slots to over 700 children ages 3 and 4 with free, culturally responsive preschool. Preschool for All prioritizes children who have the least access to early learning. This includes children from lower income families, those experiencing homelessness or living in or at risk of placement in foster care, and kids with developmental delays and disabilities. The program also prioritizes children who speak languages other than English and children of color.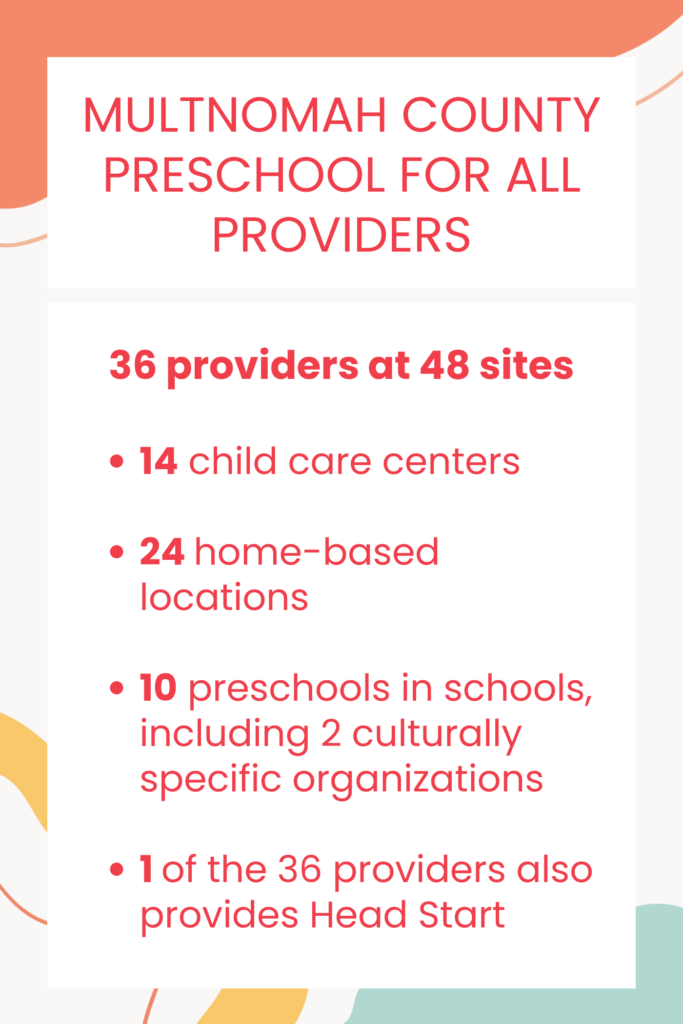 Preschool for All first welcomed county children in fall 2022 after voters approved the November 2020 measure to expand early education to young children. The program is funded by a marginal personal income tax on the county's highest income earners and has generated more than $187 million since its inception through June 2022.More than 1,100 families applied for the limited slots available in 2022. To meet the growing demand for the program, the county is applying a multipronged approach to support existing providers through mentorship, assist those who want to expand capacity, or bring entirely new providers online.
The county is also playing a role in growing the early childhood workforce. ECONorthwest, an economics consulting firm with offices in Portland, estimated the county will need 2,300 new teachers for Preschool for All and other preschool programs to reach universal preschool in Multnomah County.* The goal is for many of those teachers to have the cultural and linguistic backgrounds that match the families they'll be serving. 
The county plans to add at least 400 slots to the 2023-24 school year to reach its goal of 1,100.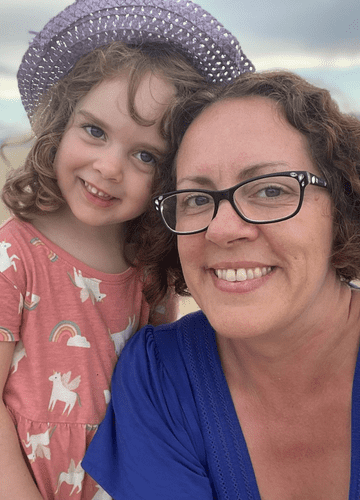 Christine Treadwell & her daughter, Ramona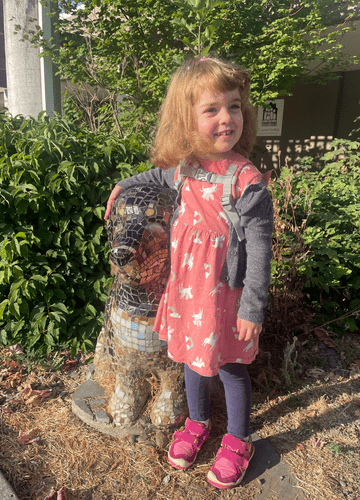 Ramona
Life changing for families
Halfway into the school year, parents and providers say Preschool for All is working. Children are developing key social emotional and problem-solving skills, literacy skills, and beginning to learn key concepts they'll need for kindergarten. Preschoolers who are on early childhood special education plans also receive services in group settings, rather than at home. And parents, who often bear the brunt of costly child care, have more flexibility in their budgets and lives.
Parent Christine Treadwell learned of Preschool for All on a Facegroup group for free items. Once she learned how many slots were open, she didn't think her 3-year-old daughter Ramona would be lucky enough to secure one. Months after she applied, she got the news she needed. 
"It was pretty life changing," Treadwell said.

The single mom of two daughters lives on food stamps and said the only child care she could afford was through Portland Parks & Recreation, where she could enroll Ramona for three days a week for two and a half hours each day. She met income qualifications and would pay $75 per month. Still, the limited hours of care only gave her time to do laundry or grocery shop. It wasn't enough time to find a job with more consistent hours.
Now that Ramona is in Preschool for All five days a week for six and a half hours per day, Treadwell works at a coffee shop while her girls are at school. She's able to earn money and then spend quality time with her daughters when they come home. She said she's hoping to land an administrative role soon.
​Karen Huggins, a Preschool for All teacher at Friendly House in Northwest Portland, said one of the huge benefits to families is their savings in child care costs.
"Providing child care is a huge burden on families," Huggins said. "If you have that one or two years of support where those kids have a safe place to go while they're at work – it is important."
A growing ecosystem
As the county stands up a new program, it will take time to support a burgeoning local early learning ecosystem, said Leslee Barnes, director of Multnomah County's Preschool & Early Learning Division.
"Preschool and early childhood had been neglected for decades," Barnes said. "We had to meet providers first where they were at."
Some teachers and providers say they're watching how the program unfolds and have questions now about curriculum, development of a substitute teacher pool, payroll systems, and increases to teacher pay.
Angie Garcia, program director at Escuela Viva Community School, which supports development of English and Spanish skills, said providers will need to speak up about what's working and what isn't to help make Preschool for All as successful as possible.
"There's no way they won't be able to do this without a steep learning curve, and we all need to be willing to pitch in to make this program a success," said Garcia, who advocates for universal preschool to provide early learning opportunities to all children, not just those who were underserved.
"I think that people are cheering us on," Garcia said. "Because if we're successful they can emulate that model in their county or part of the state."
Richmond, who spent 13 years in the medical field, before venturing into early education said the investments, mentorship, and coaching support she receives from the county helps her create the kind of high quality care she would want for her own children.
"The program is new and we're all learning together," Richmond said. "With Preschool for All, there will be more high quality care. It will take away the stigma that is in child care homes because of the expectations they have for us as providers."
As the program evolves and grows, Huggins said she is hopeful the program continues to be funded and that it will hire more qualified teachers as the program expands. She also wants people to notice the program's contributions to communities.
"I hope it's something that stays in place for a long time," Huggins said. "I'm excited to see as the program continues to develop and progress if we are going to see more alignment with the public schools, so we see that the work we're doing is getting kids ready for kindergarten.
A focus on social-emotional development
Since starting preschool in September, Treadwell already sees the changes in Ramona, who spent her toddler years during COVID in sparse contact with other children her age. Ramona spends more time talking and interacting with her diverse classmates, while also broadening her perspectives.
"When she went in, she was very quiet and didn't know people's names and played by herself," Treadwell said. "Now, she's giving hugs. Socially that's awesome. She's practicing talking more, and she's coming home with fun science and animal behavior stuff and looking at the world with a different lens and perspective."
Garcia said such social and emotional learning is a key component of preschool where a child develops emotional literacy. "They understand and can articulate when they are happy, sad, tired, hungry, frustrated."
"If we can raise this next generation of children to know their value as an individual and as part of a community….if they are able to articulate what they think and feel, and equally hold space for what other people think and feel…if they are able to find common ground with others, they will be free to grow and develop in all the other important ways," Garcia said. "And I can imagine no greater gift to give to our children and to one another."
Additional information
The 2023-24 application will open in spring 2023. Learn more about Preschool for All in Multnomah County. 
*This analysis was conducted in 2018 and was part of the Preschool for All Task Force Report released in 2019.