How is the COVID-19 pandemic affecting your corner of the early care and education world? Please email Ashley Walker at ashley@childinst.org if you or someone you know can help us to illustrate the on-the-ground reality for educators, families, small business owners, child health workers and others.
Echo Shaw Elementary School is an entirely dual-language program serving students from pre-k to eighth grade. In this piece, Rodriguez shares how her school and community are meeting new challenges posed by the COVID-19 pandemic.
On Technology 
As far as the transition to distance learning is going, our district as a whole has been one-to-one for a long time, with technology for every student. That's Chromebooks for the older students, a mixture of iPads and Chromebooks for kindergarten and first grade, and iPads for pre-K. So we've been able to try different kinds of apps with students at different times. I can't imagine what we'd be doing if we didn't have that one-to-one tech availability. Some families don't have WiFi, and the district is working on getting hot spots distributed to them.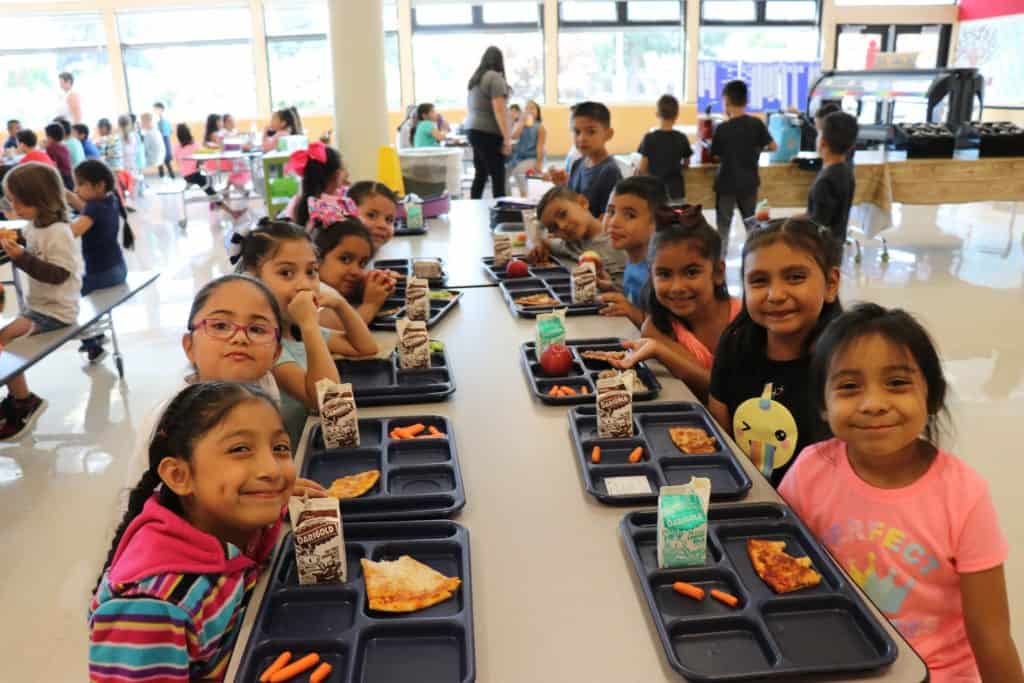 Students haven't gathered in the cafeteria since mid-March. Photo courtesy of Echo Shaw Elementary.
Both of our pre-k teachers believe that screen time as a tool for learning can be important, but it hasn't been a priority. But now that things have moved online, it's becoming clear that an iPad is just a tool; you have to know how to use it. Pre-k, kindergarten, and first graders are just learning how to read and write. If you don't know how to spell "Google Classroom," everything is hard!
This is an opportunity for us to do some learning about appropriate doses of technology for the youngest children, and what to do with that time. Looking back, if we knew what was coming, we probably would have been doing technology as more than a center activity, more than another way to do math games, you know? I think it's fair to say there would have been more direct instruction around how to really use the technology as a tool.
On Flexibility and the School/Home Connection
More than ever before, we're relying on that parent-teacher relationship, and we're learning side-by-side with parents. We're spending a lot of time right now walking parents through how to access all the tools online. It's a balance between wanting to provide a lot of tools and support to parents, without making the technology feel like a requirement, or like somebody will be in trouble if kids aren't doing it. We're framing it as, "We want to give everybody as many learning resources as we can, and we know that you're going to choose the ones that work for your family, and we're okay with whatever you're doing."
This is going to pass, and when it does, we'll have so much more work to do if by then, your kids hate school and hate learning and associate technology and their teachers with, you know, "My mom would yell at me because at nine o'clock I wasn't doing my math work." We do not want that!
We're telling them, if nothing else, it would be great if the kids watched the lessons teachers post and joined the classroom meetings. Right now we're organizing classroom Google Meets. Teachers are working up to 20 minutes every day, live. And then they are posting math and literacy activities. A pre-k teacher has created a website, she uploads videos on YouTube, and she has a Facebook page for the class, because it's easiest for the parents that way.
I don't know if we're doing anything right. I just keep telling all the parents and all the teachers that we just have to trust our instincts and what our gut tells us, then change it if it isn't working. We're humbling ourselves. We don't have to act like we have it all figured out; I don't remember taking a class in global pandemic preparedness.
On Concerns for her Community
I'm worried about a lot of our families, especially a lot of our immigrant families who have lost their jobs, who don't qualify for a stimulus check even though they've paid into the economy here. Families who, given their legal status, they're afraid to use any community resources, even though it would be perfectly appropriate for them to do so. In this political climate, everything is scary. If you're undocumented or even if you're here legally, but as a resident and not a citizen.  You now see where one of the new regulations that they just started a couple of months ago is around families who are applying for citizenship. If they've ever taken advantage of any public help, then they wouldn't qualify. It's horrible. So I worry about our families, just their well-being. I worry if they're eating, and if they'll reach out about that.
Schools are figuring out the best ways to help families. The teachers here at Echo Shaw, we have what we call the "School Sunshine Fund," and teachers donate at the beginning of the year, and we use those funds to celebrate different events, like staff appreciation week, or if someone has a baby, we can get them something from the whole staff. But we've decided to use that money this year on gift cards to Winco and Walmart, so if we hear of any needs, or if we just know our families, we can stick a card in the mail just to say, "We're thinking of you, and we miss you."