Bahia Overton is the executive director of the
Black Parent Initiative
(BPI), which supports African American, African and multi-racial families by providing culturally specific services that help them thrive.
COVID-19's Impact on the Black Community
In our work with Black families in Portland, we see that the stresses caused by the coronavirus crisis exacerbate other existing issues our people are facing. Health issues, financial situations, whatever. We're working with families on finding ways to be creative in their situations while stressed.
School and child care closures haven't been the greatest challenge for many of our families. Some of them are new parents, with children who aren't school-aged. Some live in multigenerational households, or multi-family households where child care needs are met if a parent does still have to go to work.
The biggest impact on our programs has been the need for flexibility in funding to come up with creative solutions to situations that pop up because of the pandemic. For example, all the people making numerous runs to the grocery stores and frantically clearing the shelves leave our families who use WIC unable to get what they need. We're working around the clock to write grants to help us provide emergency relief and fund non-food purchases so people can use that for diapers or food, or whatever they determine would help their family the most.
Why Culturally Relevant, Community Based Organizations Matter
A disproportionate number of Black people are being diagnosed and dying from coronavirus—in some states, 40-70 percent of those dying are Black. But that's not because it's our fault, or something is lacking in our response to the pandemic. It's because so many of us are frontline workers, in industries like public transportation, where there's only so much social distancing you can do. We want to communicate fact over fantasy: Black people are disproportionately impacted by this virus, but we aren't the problem. Actually, we hold solutions.
Let's not forget, along with other health implications, racism is a preexisting condition. The stress of walking through this life as a Black person contributes to stress-related illness. Racism compounds all other health vulnerabilities. But there is a bright side! Our strength and resilience will help us get through this! We have used joy and creativity and innovation because we have had to make a way out of no way forever.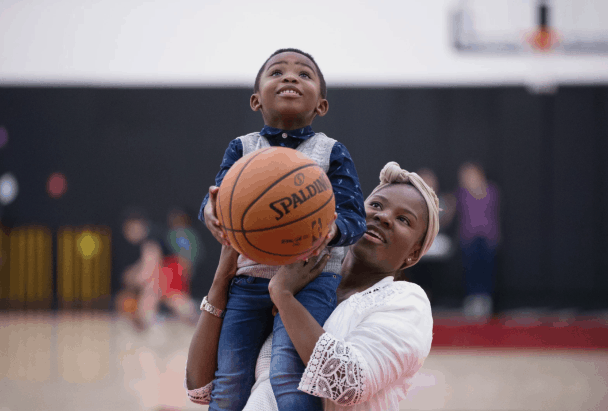 Culturally Relevant Self-Care
BPI has an opportunity to reach folks in a way that others can't. I frame suggestions for "self-care" by introducing ideas that are culturally relevant. I suggest using games and family activities to relieve stress and to calm kids. Today I introduced a candle activity where a candle is lit in the middle of a table and as family sits around the candle, each person takes a deep breath in and out toward the candle, but nobody blows it out. It's a controlled breathing exercise for stress relief, but you don't have to call it that.
We want to help families identify their locus of control. We tell them, "There are things we can't know, so think about how you're going to get through this month. Lights on, food in the fridge, joy in your home," and then we help them identify the areas where they can have a direct impact.
Bridging Physical, not Social Distance
Axiologically, relationships are the most important thing to Black families. So focusing on physical distancing rather than social distancing is key to maintaining those relationships.
A lot of our clients don't have internet access, or their phones are getting cut off because they've lost a job, so our home visitors have become extremely creative. They might do a "knock and run," knocking on the door and then standing six feet away to deliver a message about an appointment or to provide information about food services, diaper drop-offs and job info. Sometimes home visitors will do home observations by walking "with" the family from across the street.
For those with access to technology, we have lactation consultants working remotely, virtually. Our new moms are okay with our consultants getting on the Zoom screen and showing them how to breastfeed, in some cases using self-demonstration. This might be awkward and uncomfortable at first, but our consultants understand the cultural nuances of supporting Black mothers; if we weren't doing it our way, it would be far less successful.
We are also creating online support services, phone trees, and picking up and dropping off supplies. Individually, we are providing free online fitness classes, and Facebook and Instagram livestreams, where we can give culturally relevant information to our community from people they know and trust.
Helping Our Helpers
I'm trying to find ways to pay our home visitors more, because they have always deserved that, and now, their lives are changing. They have kids being sent home from college that they now have to support on a limited salary. We need to do a better job at helping our helpers. We need emergency relief to compensate the families we serve and the people doing this work right now.
How is the COVID-19 pandemic affecting your corner of the early care and education world? Please email Ashley Walker at ashley@childinst.org if you or someone you know can help us to illustrate the on-the-ground reality for educators, families, small business owners, child health workers and others.
We know you care about young children and their families in Oregon. Turn your caring into action. Your tax deductible contribution allows us to continue our outreach to communities across Oregon impacted by the COVID-19 pandemic. Your generous donation makes a difference!