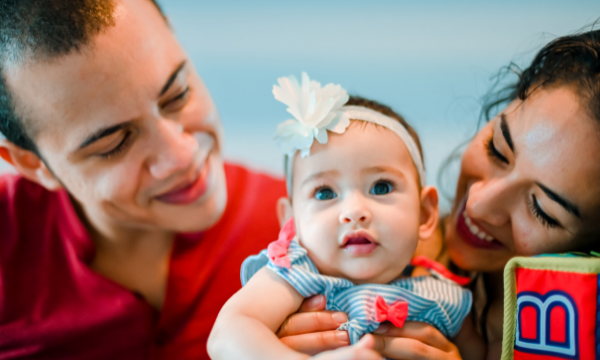 When Marnesha Strickland gave birth to her daughter, the hospital connected her with a program to support her with her newborn. Shortly thereafter, Strickland was introduced to Vanessa Stewart, a home visitor with Albina Head Start, which is a contractor providing Healthy Families Oregon (HFO) services, including home visits.
Home visits are free, voluntary, and offer support and education to people who are pregnant or parenting newborns. These services are offered in communities across Oregon and are designed to improve health outcomes for children and parents, encourage positive child development, and enhance family well-being. Before the pandemic, visits occurred weekly in families' homes; now, home visitors and parents meet virtually. Families can choose to participate for six months or longer, depending on their needs, and visits can continue for up to three years. 
Vanessa Stewart has been a home visitor for 23 years and is passionate about working alongside families as they navigate parenthood. "I love my job," she said. "I love to help my families with child development activities, set goals, and help them find and access resources."
"A lot of families aren't able to get into the classroom, but they still get support with home visits and they can still teach their kids, and have someone to help guide them."
Stewart worked with Strickland and her young daughter for three years. Today, Strickland's daughter is over the age of three, and although she no longer uses home visiting services, she said that visits with Stewart provided her with extra support, parenting tips, learning techniques to teach her young daughter, and someone to talk to.
"Home visiting is important for parents who feel like they are alone and nobody is there to help or listen," said Strickland. "You feel like you have someone in your corner. Miss Vanessa was not just my caseworker — she went above and beyond to help me and my daughter."
Unfortunately, the early childhood sector — and specifically, family support programs like Healthy Families Oregon and relief nurseries — faces workforce and recruitment shortages, putting these vital early childhood and family services at risk. 
Family support programs are effective because they build deep relationships with parents and children, and support the self-determination of families. That means stabilizing a skilled, diverse workforce is a critical component in improving services, and Oregon's early childhood providers should not have to live in poverty.
Currently, Healthy Families Oregon and Oregon Relief Nurseries provide services to 2,300 families and 3,500 children, respectively, but have not been able to raise wages to match other early childhood programs, such as Preschool Promise and Oregon Head Start PreKindergarten, let alone wages in other sectors with similar skills. 
Kara Tachikawa, Executive Director of Mountainstar Relief Nursery, explained that with the current super-competitive hiring market and increasing cost of living, relief nurseries are not able to offer the salaries necessary to attract highly qualified staff.
"Many of our organizations are only able to offer the same, and sometimes even less than local fast food or grocery store entry-level positions," said Tachikawa. "This makes it less likely that people with education and experience in social work or infant mental health will join the statewide team of relief nurseries, where their skills are desperately needed in order to keep children safe with their families and help parents become the best they can be."
If legislators want to interrupt the negative cycle of trauma and decrease future state costs related to foster care, special education, criminal justice, and long-term negative health outcomes, they should make an investment now.
In the 2021 legislative session, Oregon's Early Childhood Coalition asked for $4.8 million for relief nurseries and $10 million for Healthy Families Oregon, largely to raise wages. However, relief nurseries received only $2 million of their wages request, and HFO received $800,000 — not to raise wages, but to serve more families.
This year, Oregon's Early Childhood Coalition is supporting investments that were incomplete in 2021:
$2.8 million investment in Relief Nurseries to achieve wage parity with other early childhood programs to reduce turnover and improve consistency
$3.746 million investment in Healthy Families Oregon to raise wages to be comparable with other early childhood programs to support retention and recruitment of staff
$275,000 investment to continue Healthy Families Oregon services in Tillamook and Jefferson counties, which have lost the Federal Maternal Infant Early Childhood Home Visiting (MIECHV) funding. The full biennial cost to restore funding is $245,660 in Tillamook and $130,000 in Jefferson.
"If legislators want to interrupt the negative cycle of trauma and decrease future state costs related to foster care, special education, criminal justice, and long-term negative health outcomes, they should make an investment now," said Tachikawa.