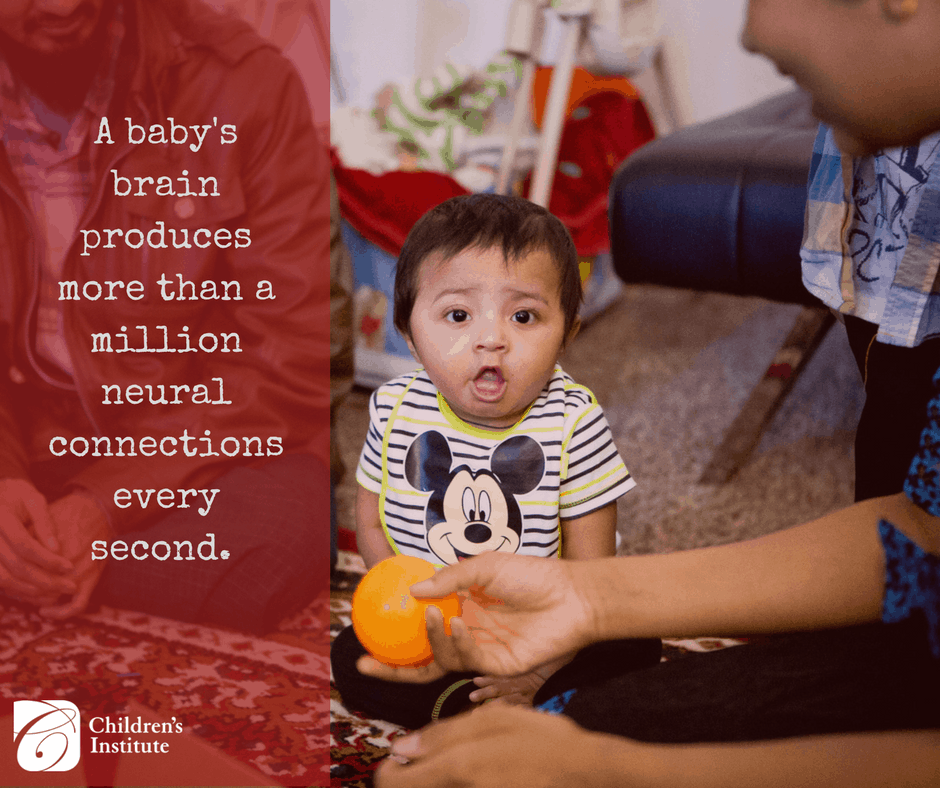 Scientists and parents know that young children's brain development is critically important—and researchers learn more every day. Children experience their most profound cognitive, social, and emotional growth in the first eight years of life. Children's Institute has put together a series to share educational resources and the latest news from experts about young children's growing brains and how their caregivers can support and nurture this growth.
In this series, we'll highlight what parents, caregivers, teachers and others can do to support optimal brain development, as well as the latest information on kids' growing brains.
Below is part 1, on children's brains from birth to age 3. Read it, watch the videos, and please let us know what you think!


By the time children reach their third birthday, their brains are 80 percent developed. And a baby's brain produces a million neural connections each second. The quality of children's early experiences during this crucial period of growth sets the foundation for all future learning. When young children have a stable, loving environment and nurturing caregivers, their brains are primed for early learning experiences that cultivate social, emotional and academic skills for lifelong success.

1. Learning begins at birth. In the first three years of life, the brain develops at its fastest. Babies' brains are primed to respond to everyday loving moments, from affection to comfort to play. These moments help wire the brain, building the architecture that's critical for language, relationship development, literacy, reasoning skills, and more.
Take action: If you have or care for a child, take time to play. Babies and young children can often become laser focused on simple objects—encourage it, talk about the object, or sing a song about it!
Learn More: Nurturing Healthy Development from Birth, a video from Zero to Three
Brain Wonders – Zero To Three Magic of Everyday Moments from ZEROTOTHREE on Vimeo.
2. Brain development is about relationships. Relationships build the foundation for development. Consistent, engaging interactions with parents and caregivers strengthen young children's brains. When parents and caregivers appropriately respond to young children's babbling, cries, facial expressions, and words, children learn essential communication and social skills that they will build on for a lifetime.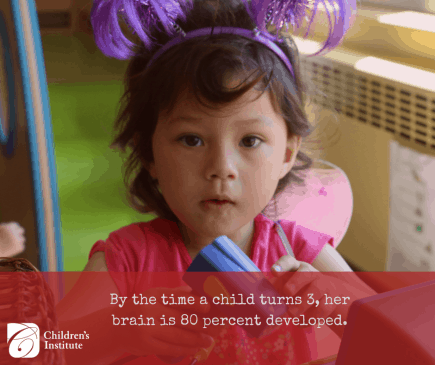 Take action: Talk and babble with the children in your life, respond with love when they cry, and help them understand the world by narrating the day. Caring for a young child can be challenging, especially when they're hurt or sick—or throwing a tantrum! Research shows that being consistent and loving is among the most important things you can do.
Learn more: These informational sheets, organized by age, are based on research from the National Academy of Sciences.
3. The brain's architecture is built through experience. Complex skills like reading are built on a foundation of a child's natural curiosity and learning early fundamental skills. Those early skills include attentiveness and recognizing letter sounds. And babies practice all those skills when they're being read to.
Take action: Read to the children in your life! Attend free library story times or read-and-play groups, or just tell them stories throughout the day based on what interests them.
Learn more: This video from Zero to Three explains how reading to your baby can promote the development of vocabulary and reading skills.
Loving Literacy – Zero To Three Magic of Everyday Moments from ZEROTOTHREE on Vimeo.
4. Negative experience can have an adverse effect on brain development. Children exposed to prolonged neglect or abuse, extreme poverty, parental substance abuse, severe maternal depression, or violence in the home or community can experience toxic stress. Toxic stress causes the body's stress response to stay elevated, disrupting young children's brain development. Toxic stress can lead to behavioral and developmental problems with lifelong effects.
Take action: There is no shame in asking for help. In Oregon, there are programs to help families experiencing abuse, poverty, and other factors that contribute to toxic stress. Dial 211 in Oregon for help finding health and social services, including housing, food assistance, child care, and more. Relief Nurseries are an excellent resource for families who struggle with risk factors of abuse.
Learn More: Here's a video from the National Society for Prevention of Cruelty to Children in the U.K. about stress and the developing brain.
Here's more information on toxic stress from Harvard University's Center on the Developing Child.
5. Healthy brains thrive with stability. Young children who live in stable homes free from prolonged negative experiences including economic stress are better able to develop and thrive. When children who have been exposed to stressful environments receive loving and responsive caregiving, they can generally recover from trauma.
Take action: Get help if you need it (see above). If you are in a position to help, you can advocate for local, state and national policies that support families, or volunteer to help families in your area.
Learn more: Harvard University's Center on the Developing Child has a wealth information on the subject, including childhood resilience.