We invite you to spend an hour listening to our interview with Ron Herndon, a long-time community leader and activist in Portland and nationally. He has been the director of the Portland-based Albina Head Start since 1975, and his background includes more than four decades of advocacy efforts on behalf of low-income families and young children, and Portland's black community.
Having served as chairman of the board for the National Head Start Association for 20 years, from 1993 to 2013, Herndon offers a unique historical perspective on early childhood in Portland and nationally. Today, his Head Start and Early Head Start programs serve more than 1,000 children in 33 classrooms at 25 locations in North, Northeast, and Southeast Portland. And he has recently pioneered a Mandarin language program, the first of its kind for a Head Start program in the US.
In this interview, we discuss the history of Albina Head Start, racial discrimination and segregation in Portland, and the history of state and federal policy that systematically isolated and suppressed Portland's African-American community — actions that still have lasting impact today. Herndon also provides his commentary on the history of education in the country, what is lacking for low-income children, the importance of teacher training and family empowerment, and ideas for changing the lives of children with a commitment to their well-being and success.
Please tune in, share, and enjoy.
Interview Highlights
[1:05] The origins of Albina Head Start and Ron's recruitment by Head Start parents.
[3:03] History of the Albina neighborhood in Portland.
[5:37] Disruption of the black community in Portland and the origins of redlining and housing discrimination.
[9:30] Gentrification versus discriminatory policies such as redlining.
[12:09] Displacement of black people from the Albina neighborhood alongside displacement of black children from black schools.
[18:45] Herndon's role in the Black United Front to end school bussing policies in the 70s and 80s.
[24:22] Comparing school bussing policies from the 70s to voucher policies in effect today.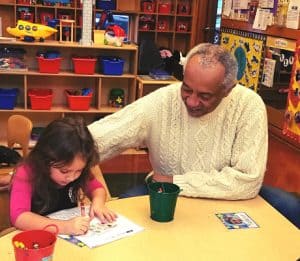 [31:14] The reading instruction controversy in Head Start.
[36:29] On the lack of diversity in early learning leadership.
[39:41] The innovation of the Center Training Assistant (CTA) program.
[44:44] Comments on what it takes to run a "high-quality" program and the importance of parent involvment.
[47:36] The future of Head Start and Early Head Start.
[58:04] "Children can learn what we are prepared to teach them. If we set goals and have high aspirations for children the majority of the time they will reach them."
[1:01:44] Advice on engaging in activism today and pushing for institutional change.