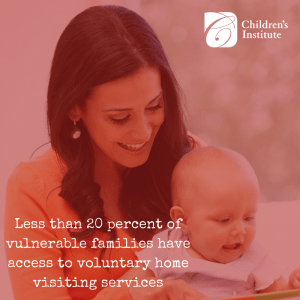 MIECHV funds high-quality, evidence-based home visiting services in Oregon's voluntary home visiting system.You can help renew federal funding for the Maternal, Infant, and Early Childhood Home Visiting (MIECHV) Program by taking three actions.
CALL your members of Congress
You can look up your senators here and your representative here. It's also important to make calls to leadership in both the House and Senate.
Key points:
Families are at risk of losing critical home visiting services because of congressional inaction

Congress let MIECHV expire despite strong bipartisan support and clear evidence that MIECHV home visiting programs work
States do not have the money to make-up for Congress' inaction
S.1829 would reauthorize MIECHV for five years
For every tax dollar spent on home visits, as much as $5.70 is returned to the community
Learn more about MIECHV expiration and reauthorization
TWEET your members of Congress
Join the conversation on Twitter: #RenewMIECHV
You can look up Twitter handles of senators here and representatives here. We also encourage you to tweet at Congressional leadership. You can find House leadership here and Senate leadership here.
Use #RenewMIECHV on Twitter and tweet to your members of Congress.
Download and share graphics from the Home Visiting Coalition
Sample Tweet:
MIECHV is good for families, good for states & good for taxpayers. What are we waiting for? #renewMIECHV
EMAIL your members of Congress
Send an email to your senators and your representatives, as well as House and Senate leadership.
Sample Email:
Subject line: Support S. 1829 to Renew MIECHV – your constituents are counting on you
Dear Senator/Representative ______,
My name is ______ and I live in _______.
I'm writing to urge you to renew federal funding for home visiting by supporting Senate bill 1829, bipartisan legislation that reauthorizes the Maternal, Infant, and Early Childhood Home Visiting program for five years without a harmful state match.
It's been two weeks since inaction allowed the program to expire, and jobs and services are on the line.
Please do everything in your power to pass this legislation as soon as possible. The clock is ticking. Every second that Congress waits is a second closer to lost services and lost jobs.
Children and families across the country are counting on you and your colleagues to pass federal funding for home visiting.
Thank you.
Sincerely,
NAME/CITY
More Resources
Oregon's Voluntary Home Visiting Services