Re-printed with permission from Teresa Ashford who blogs about life as a preschool director and much, much more at pinenutsmusings.com.
In yet another Zoom call this week, we (child care providers and early childhood educators around the state) spent time discussing the rules and regulations for child care providers in Oregon amidst the COVID-19 pandemic.
As we can no longer allow children to use sensory tables and sandboxes, it was suggested that we provide each child with their own sensory tub. The meeting's host shared that "children like it better anyway, because they don't have to share materials."
They may 'like' it better, but is it ideal for young children's development? Children 'like' a lot of things, however, our role as early childhood educators is to engage in best practice.
While we never require children to share, we do witness and support negotiation, collaboration, and the concept that one's peer may not yet be finished with a toy.
We know that social-emotional development is promoted through sensory play. Sensory play inspires:
 …children to work together to construct a sand village, wash a baby doll in water, or chase a giant bubble as it sails through the air. The fact that play with these materials can calm a child who is agitated or upset has been well documented. When children play with sand and water they often express their thoughts and feelings.  (Dodge, Colker, & Heroman, 2008, p. 403)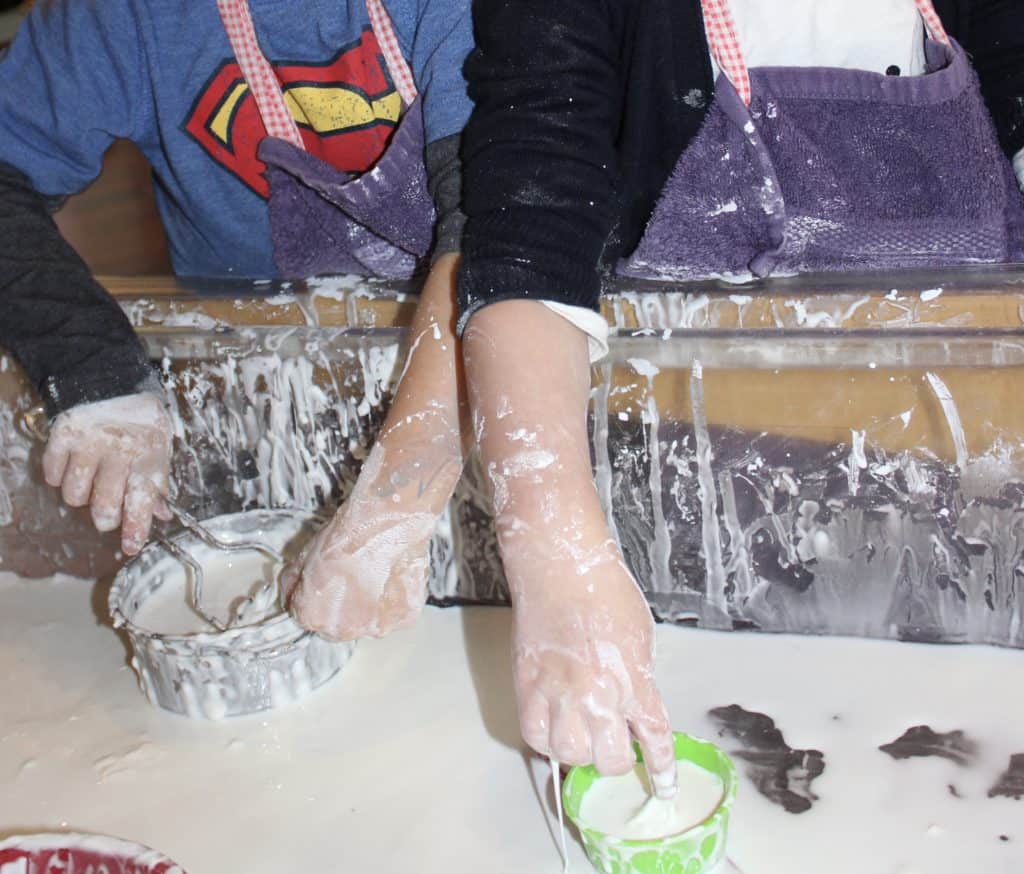 Two children's hands playing in a sensory table. Photo courtesy of Aspen Academy.
Furthermore,
 A central aspect of many quality preschool programs is sensory play, or play opportunities offered primarily for the tactile experience. Play is the natural learning style of the young child (Bredekamp & Copple, 1997). Quality play often takes place at sand and water tables, also known as discovery or sensory tables. We have observed that this "watering hole" of the preschool brings combinations of children together who might not otherwise interact with each other. The discovery tables provide rich opportunities for children to expand and practice their emotional development and are easily tailored to a variety of interests and developmental levels. Emotional development occurs through play as children explore, discover, negotiate, question, analyze, and synthesize the world around them (Bredekamp & Copple, 1997; Trister Dodge, Colker, & Heroman, 2002). Sensory play, traditionally centered around sand⁄water⁄discovery tables, is a dynamic type of play. This informal and unstructured play setting never offers the same experience twice, but provides numerous ''teachable moments'' to augment emotional development. . . Because of these benefits it appears that sensory play provides numerous opportunities for coaching, teaching, enhancing emotional recognition, and teaching or encouraging control of impulsive and aggressive behavior. (Maynard, Adams, Lazo-Flores, & Warnock, 2009, p. 26)
Children are hands-on, sensory learners. I shout this Piagetian concept from the rafters in parent conferences and in my college classrooms. They learn by exploring, moving, and physically engaging with their environments. And perhaps this concept is on my mind more so this week as my college students are reading a section on 'sand and water' play. 
I understand that developmentally appropriate practice must be sacrificed in the midst of staying alive during the coronavirus pandemic. Our lives are more important… But what will be the long-term outcomes on children's development? 
There are children in my program and around the world who so desperately need these sensory experiences. These are the children who spend all morning at the sensory table running their hands through rice, pouring water, spreading shaving cream, compressing kinetic sand, and mixing mud. These same children spend all of their outside-time in the sandbox; digging, pouring, and covering their entire bodies with sand. As a result of this play, these children become more emotionally regulated. They are engaging in what they need.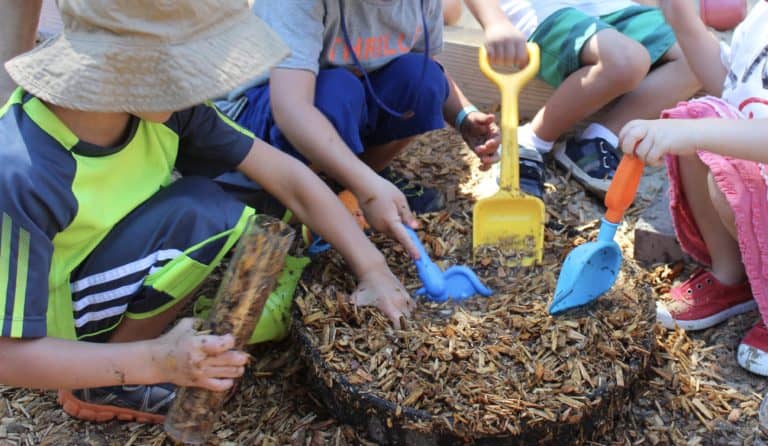 Yes, children can have single-use, single-child sensory tubs, but I struggle to imagine what that looks like with ten children in my home. I struggle to see how one's whole body could be a part of that experience. I also know that children can have sensory experiences at home with their families. I know this… But it is not the same. Many parents have shared over the years how grateful they are for our program's sensory table, as folks don't want that kind of 'mess' at home. Anyone who's spent time using a kebab skewer to dig Oobleck (cornstarch and water) and kinetic sand out of the gaps in the hardwood floors would understand! Families are also unable to replicate the learning that comes from collaborating with one's peers.
There are no easy answers and I wish there were. These are the issues I lay awake in bed thinking about at 5 a.m. How can I still offer a model preschool program to families where limitations affect what I consider to be best practice?
"If it hasn't been in the hand and body, it can't be in the brain." – Bev Bos
References
Bredekamp, S., & Copple, C. (1997). Developmentally appropriate practices in early childhood programs. Washington, D.C. NAEYC.
Dodge, D. T., Colker, L. J., & Heroman, C. (2002). The creative curriculum for preschool (4th ed.). Washington, D.C.: Teaching Strategies
Dodge, D. T., Colker, L. J., & Heroman, C. (2008). The creative curriculum for preschool: College edition. Washington, D.C.: Teaching Strategies
Maynard, C. N., Adams, R. A., Lazo-Flores, T., & Warnock, K. (2009). An examination of the effects of teacher intervention during sensory play on the emotional development of preschoolers. Family & Consumer Sciences Research Journal, 38 (1), 26 – 35. DOI: 10.1111/j.1552-3934.2009.00003.x
How is the COVID-19 pandemic affecting your corner of the early care and education world? Please email Ashley Walker at ashley@childinst.org or click the button below to submit your story through our form.