The 2022 legislative session came to a close on Friday, March 5, and as we welcome spring and a time of renewal, Children's Institute is optimistic about the future of early childhood in Oregon.
In the short span of five weeks, the Oregon legislature passed several of the Early Childhood Coalition's legislative priorities, including investments that will fund wage increases for Healthy Families Oregon (HFO) and Relief Nurseries, and the Child Care Emergency Response Package. Together, the legislature made a nearly $100 million investment that will help stabilize the child care sector, support providers, and ensure more families have access to early childhood opportunities. While this investment is a step towards progress, it's a short-term relief to address the immediate child care crisis, which has been exacerbated by the COVID-19 pandemic.
Together these investments will:
Provide $2 million to Healthy Families Oregon to raise wages
Provide $2 million to Relief Nurseries to raise wages
Fund an additional $122,830 to restore Healthy Families Oregon services
Invest $26 million to increase the amount of money providers who accept Employment Related Day Care (ERDC) subsidies receive per child, bringing rates to a more equitable level
Provide $21 million in direct relief payments of $500 each to currently-working child care providers—one payment in 2022 and another in 2023
Invest $39.3 million to recruit and train new child care providers, and provide direct grants to expand existing facilities of all types
Direct $3.6 million to the Department of Early Learning & Care
"This is a significant win for Oregon's children," said Kali Thorne Ladd, CEO of Children's Institute. "But it's an important step along the way in building a strong early childhood system… we must continue to advocate for our youngest community members and ensure we implement lasting solutions so that we build a future that we can all be proud of."
We want to thank the Early Childhood Coalition and community partners who have spent countless hours working to build a more equitable early childhood system by crafting thoughtful messages, providing testimony, and meeting with lawmakers on behalf of young children.
"What began in 2018 as a handful of advocates who recognized the need for an aligned, comprehensive early childhood systems strategy is now a partnership of over 50 organizations across the state of Oregon, and we're still growing," said Malea Miller, advocacy and policy coordinator at Children's Institute.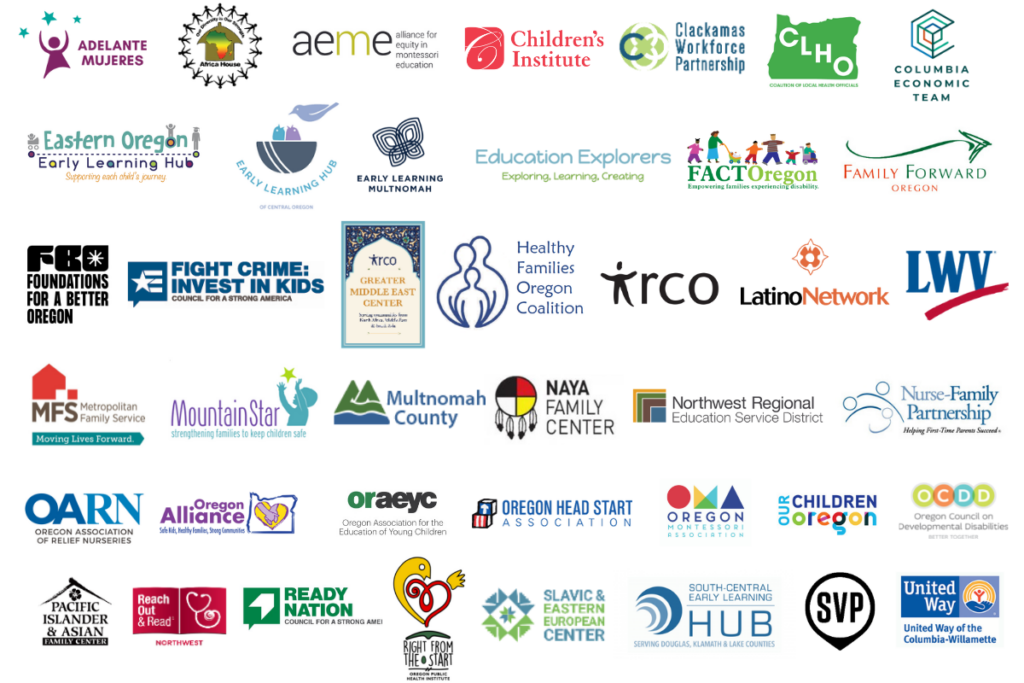 "The discrepancies we see in outcomes related to child health and education are a result of intentional, systemic injustice and exclusion from the political process," Miller said. "Because of this, we are excited and committed to expand our relationships and continue to center our most deeply impacted families and community partners in policy development and decision-making. The power of the collective cannot be overstated; none of us can do this work alone."
The ECC is always looking for additional partner organizations to advocate for equitable early childhood policies. We invite you to join us, by learning more about our collective goals, sharing our message with your networks, and working with us to remind lawmakers why early childhood matters! To get involved, please email Malea Miller at malea@childinst.org
Related Links
Oregon's Early Childhood Coalition Releases 2021 Legislative Report