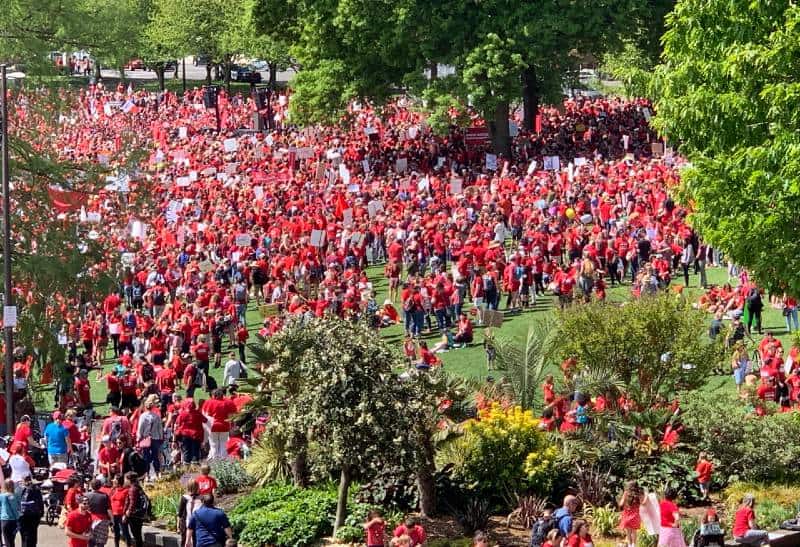 Protesters wearing "Red for Ed" gather along Portland's waterfront in support of funding for education. 
Teachers across Oregon today are walking out of their classrooms to protest decades of severe underfunding of our schools. While many states have seen teacher strikes and walk-outs, the movement here in Oregon is a bit different. As The New York Times reported:
Oregon teachers want to make it clear they're not pushing for pay raises or other union demands. They say they're walking out to highlight the conditions inside the classroom and how years of lower funding has affected children's learning opportunities.
As teachers and parents protest, a solution is in sight. The Student Success Act (HB 3427), which has passed the house and is awaiting a vote in the senate, allocates a historic $2 billion in Oregon's education system.
Touring the State, Lawmakers Saw Firsthand the Need to Fund Education
The Student Success Act was the result of a legislative process that began over a year ago when the Joint Committee On Student Success toured the state to learn more about what kids in Oregon need to succeed. Representative Barbara Smith Warner and Senator Arnie Roblan, co-chairs of the Joint Committee On Student Success, explained in The Oregonian what they learned on this tour:
Our graduation rates are some of the lowest in the nation. Educators have insufficient resources to serve an increasingly complex learning environment. The achievement gap between white students and students of color is unacceptable.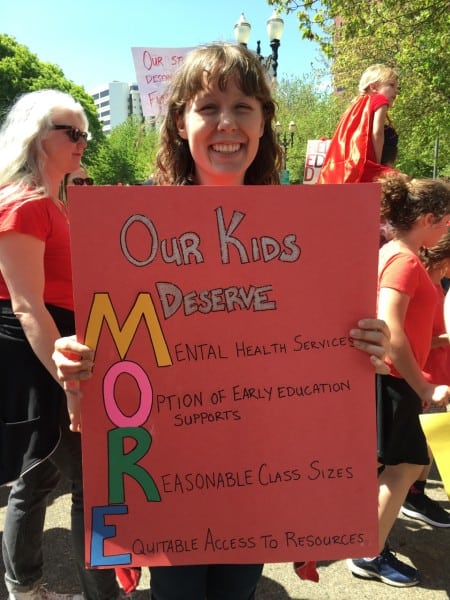 Educators Support the Student Success Act
Given the crisis in our schools, it's not surprising that education leaders across the state support the Student Success Act. The Oregon School Boards Association, the Oregon Education Association, the Confederation of Oregon School Administrators, and the Oregon Parent Teacher Association joined together to express their support of the bill.
Decades of insufficient investment in our schools have made it clear: We cannot create all the opportunities our students deserve to succeed without appropriate funding.

This legislative session, thanks to a strong economy and the leadership of the Joint Committee on Student Success, Oregon has a clear path to the pre-K-12 investments needed to overcome three decades of inadequate and unstable school funding. We owe it to our students to make these critical investments for their future. They can't afford to wait any longer.
We Must Invest in Kids Before They Start Kindergarten
Additional funding for K-12 schools are only part of the picture, though. Lawmakers behind the bill have heard loud and clear from early childhood advocates, parents, and educators that if we want to ensure all kids in Oregon have opportunities for success, we must also invest in early childhood programs and services. Writing in The Oregonian, Children's Institute President and CEO Swati Adarkar explains the importance of investments in early childhood programs and services:
My experience as an advocate for young children and families for more than 30 years also tells me this: Educational progress in Oregon depends on increased, sustained, and coordinated investments in children and their families before a child starts kindergarten. … Thanks to advancements in brain science, we now know that 90 percent of a child's brain develops before the age of 5, making all experiences children have in these early years critical learning experiences. Families, caregivers, and home environments have a tremendous impact on child development. The opportunities and relationships children have during this period can set them up for improved learning, success in school, and better lifelong health.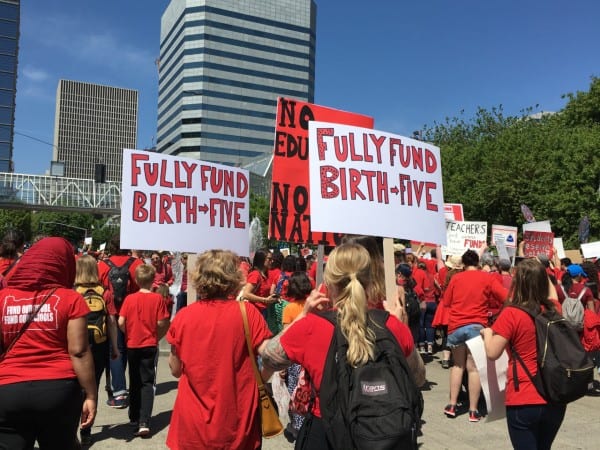 Funding for Early Childhood Programs and Services Improves the Lives of Kids
Investing in early childhood programs and services is about more than improving educational outcomes. The Student Success Act includes funding for programs like Relief Nurseries, Home Visiting, and parenting education–all of which improve the health and safety of young children. Writing in the Bend Bulletin, Executive Director of the MountainStar Family Relief Nursery explains some of the issues outside of the classroom impacting young children that additional funding could address:
We must remind ourselves of the circumstances many young children in Oregon face: 48 percent of victims of child abuse and neglect are children 0-5 years old, the state has resorted to sending children in foster care out of state due to capacity issues, and 22 percent of Oregon children have two or more adverse childhood experiences.
It's clear that to improve the lives of children, families, and educators across the state, Oregon must invest more in both K-12 education and early childhood programs and services.