The LEAP program at Cherry Park Elementary in Southeast Portland is one of a handful of inclusive preschool programs in Oregon. Originally designed to support children with autism spectrum disorder (ASD), the evidence-based model has been so effective that Principal Kate Barker has expanded it to upper grade levels.
LEAP (an acronym for Learning Experiences–an Alternative Program for Preschoolers and Parents) was created at the University of Colorado Denver in 1981 and aims to educate children with ASD alongside their typically developing peers. Programs like LEAP take a comprehensive, integrated approach to educating children in the early years, based on a growing body of research that supports inclusive education practices for children with disabilities.
Inclusion is Key
Very simply, LEAP proponents and researchers have found that children with ASD learn better alongside their typically developing peers, especially in the development of social and communication skills. A unique component of LEAP is that it trains typically developing peers to act as facilitators, or interventionists, in the classroom.  Research shows that typically developing children also benefit from the program, showing higher levels of social competence compared to their same-age peers.
As Barker tells it, "This model works for all children and in all my many years of education, this is the most powerful model I have seen for young learners, including children with non-ASD disabilities and English language learners."
Peer-to-Peer Learning 
It's story time in Max Striplin's preschool class and students are holding pictures that correspond to the book they are reading.  When a girl named Olivia sees her picture come up in the book, she stands up and places her picture on a Velcro story board. 
A few pages later, JJ's picture comes up. Olivia knows that JJ experiences autism, and may not be able to complete the same task independently. 
Olivia approaches JJ and uses a visual cue card to let him know it is his turn. When he doesn't stand up, she gently touches his elbow and lifts his arm toward the story board.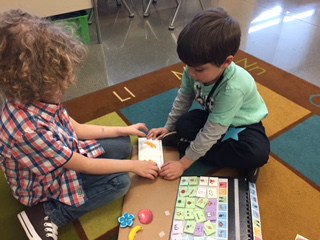 Peer-to-peer learning is a key component of the LEAP model
The subtle physical prompt combined with the visual materials help JJ to stand up and put his picture on the story board.
The students cheer for JJ and Striplin praises Olivia for being "a great helper and friend."
"If we didn't have LEAP … we would not have the same level of success mainstreaming children with disabilities in our school. We are sending children up through the grades who, before LEAP, would almost certainly have been placed in self-contained classrooms," said Striplin.
An example of visual materials used in the classroom
LEAP at Cherry Park 
Cherry Park students speak 26 different home languages, with 75 percent of families living below the poverty line, and 13 percent of students receiving special education. 
The school now operates four LEAP preschool classrooms. Each class cohort is comprised of 12 "typical peers" and five special education students. Children attend school for half a day, four days a week. (Wednesdays are reserved for meetings and home visits.) Other than a $20 supply fee, the program is free and offers transportation.
Teachers have training in early childhood special education and work with two assistants. Students have access to services from a physical therapist, speech therapist, behavior coach, occupational therapist, and mental health and other support specialists throughout the week. 
Multiple Benefits Drive Expansion
Early literacy assessments from 2018 showed that all students who participated in the preschool at Cherry Park hit grade-level benchmarks by the end of kindergarten. At the end of 2019, all but one child reached grade-level benchmarks. Additionally, the school has seen a sharp reduction in behavioral referrals since LEAP was introduced—from 40 down to just six this past school year. 
Barker has been so impressed by the outcomes  that she now dedicates K–5 general funding and professional learning time to bring LEAP strategies into kindergarten and upper grade classes.
Soobin Oh, senior early education advisor for Children's Institute notes that in adapting LEAP strategies up to later grades, Barker and her staff are addressing instructional alignment through inclusion. That novel approach is of particular interest to him and CI as we launch Early School Success—a new initiative that seeks to improve early grades instructional alignment through district and community-wide approaches.
Funding Considerations
Inclusive programs like LEAP can offer services for special education students in a more cost-efficient manner than one-on-one instruction because the approach improves child outcomes across multiple areas of development.
The ability of administrators to creatively braid multiple sources of funding, as Barker does, is also notable as Oregon struggles to meet the educational needs of children with disabilities. A lawsuit filed in January by Disability Rights Oregon and others cite disparities in instructional time and other supports for children with disabilities, including ASD.
Starting next year, Oregon will invest more in services for young children with diagnosed disabilities and delays.  The Early Childhood Coalition (ECC) and others helped ensure the Student Success Act included full funding for Early Intervention and Early Childhood Special Education. The ECC pointed to research that showed earlier intervention resulted in special education cost savings down the road. Only 13 of 198 school districts in the state graduated 81 percent or more of high school students with special needs in 2018.