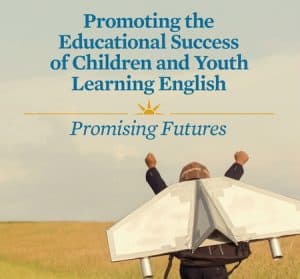 In our 20th podcast, we sat down with Ruby Takanishi, co-editor of the NASEM report Promising Futures: Promoting the Educational Success of Children and Youth Learning English; Maria Adams, language development specialist for the David Douglas School District; and Perla Rodriguez, principal of Echo Shaw Elementary School to discuss the needs of English learners and dual language learners in our schools, communities, and early learning systems. We learn more about the recommendations to promote the educational success of young English learners included in Promising Futures, and take a look at two Oregon districts leading the way on language development for their students.
---
Dr. Ruby Takanishi is a senior research fellow with the Early and Elementary Education Policy Program at New America. She is the author of First Things First! Creating the New American Primary School (Teachers College Press, August 2016), and co-editor of Promoting the Educational Success of Children and Youth Learning English (National Academies of Sciences, Engineering, and Medicine, February 2017). Dr. Takanishi is the former president and CEO of the Foundation for Child Development, a grantmaking philanthropy that launched the PreK–3rd grade movement in 2003.
Maria Adams is the language development specialist at Earl Boyles Elementary School and an English language development presenter for the David Douglas School District. Adams has worked in public education for 23 years as a classroom teacher in kindergarten, first grade, fifth grade, and sixth grade, and as an instructor of English as a second language in kindergarten through fifth grade. She holds a Master's degree in Special Education and a Bilingual, Crosscultural, Language, and Academic Development (BCLAD) certificate.
Dr. Perla Rodriguez is the principal of Echo Shaw Elementary School, one of three schools in the Forest Grove district to offer a dual language program in Spanish and English. She was named Distinguished Latino Educator in 2013 by the Oregon Association for Latino Administrators. Dr. Rodriguez was previously the principal at Cornelius Elementary School, which was designated a "model" Title I school under her leadership, the only school in the district to earn that distinction.
Please tune in, enjoy, and share.