The National Institute for Early Education Research (NIEER) has released its annual State of Preschool Yearbook, lauding recent developments in Oregon and raising the alarm about impacts from COVID-19.
The report cites the 2019 passage of Oregon's  Student Success Act, which would provide $200 million in annual funding for expansion of early care and education programs for infants, toddlers, and preschoolers. According to the report, "This increased investment, paired with current programs, should reach approximately 15,000 children (including 2,565 children in Preschool Promise), or 15 percent of children living in low-income families and approximately 60 percent of families in poverty, in the coming years."
Oregon's Early Learning Division (ELD) was also awarded a $26.6 million Preschool Development Grant Birth through Five renewal award (PDG-B–5) by the federal
Administration for Children and Families
to improve and expand early learning programs. These funds will be distributed over three years and are designed to build the infrastructure and quality supports needed to impact child outcomes through improving preschool quality, specifically targeting development of programs that reach children from historically underserved populations.
However, NIEER's report, which outlines enrollment, spending, and quality of state-funded preschool programs across the country, comes at a time when state budgets are reeling from the effects of coronavirus closures. In Oregon, plans impacting early care and education are likely to be radically upended in the context of the pandemic. While Oregon's complete budget forecast won't be released until May 20, state agencies have already had to make 8.5 percent cuts in their allotted general fund spending­—a budget reality representing a worst-case scenario for this current two-year budget cycle. According to a press release from NIEER, "The COVID-19 pandemic has created an economic problem likely to have negative long-term impacts on state budgets. That translates into negative impacts on state-funded pre-K."
State-Funded Preschool Programs are Needed to Close Gaps
Oregon's state-funded preschool programs are targeted to serve children from low-income families to help close gaps in school readiness that begin long before kindergarten entry.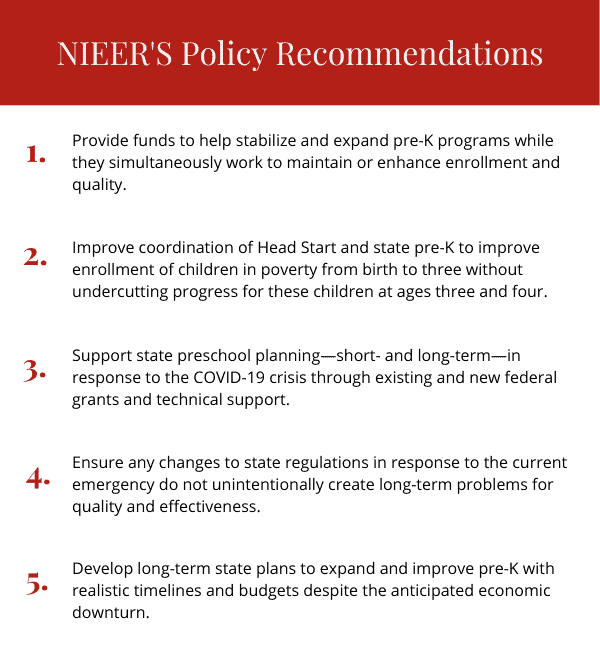 Cuts in state spending often hit preschool programs, and the effects are long-lasting. According to the report, many states have still not reinstated quality standards that were eliminated in response to the country's previous 2008-2009 economic crisis. With the U.S. already serving far fewer three- and four-year-olds than comparable countries around the world, NIEER cautions against policy responses to the COVID-19 crisis that would further gut early learning across the country.
It is on this point that the State of Preschool Yearbook finds some hope: quality early education is a widely popular, bi-partisan issue, with the most robust programs occurring in both blue and red states.
With this type of broad support in mind, NIEER has made five policy recommendations summarized in the box above.
Results in Oregon
State-funded preschool programs enrolled 9,360 children in 2018-2019, a small decrease from the previous year. State funding was down three percent, and spending was down $183 per child from 2017-2018.
Oregon's two state-funded preschool programs, Oregon Pre-kindergarten (OPK) and Preschool Promise, met an average of 7.5 of 10 quality standards benchmarks.

Source: http://nieer.org/wp-content/uploads/2020/04/YB2019_Full_Report.pdf
What's missing from NIEER's quality benchmarks?
According to Marina Merrill, director of research and strategy for Children's Institute, there are some shortcomings to the benchmarks NIEER uses to assess program quality.
"A program earns points for mandating that all teachers hold a bachelor's degree, for example," she says, "but does not earn points for paying teachers well, having a high percentage of teachers with bachelors degrees, or for achieving a diverse teacher workforce."
Oregon has prioritized a comprehensive approach, including efforts to achieve parity in salaries with local kindergarten teachers and retaining, recruiting, and creating pathways for teachers of color to earn degrees and become preschool teachers. Additional limitations to the benchmarks include:
Full-day programs are not a NIEER benchmark.
Growing evidence indicates that a longer preschool day can help close opportunity and achievement gaps in young children at kindergarten entry and beyond, and increases economic stability for families. Full-day programs are shown to improve  social-emotional, language, physical, and cognitive development, and are tied to reductions in chronic absenteeism. Preschool Promise is a full-day program, and increasing the number of full-day Head Start programs has been a priority in the SSA budget.
Inclusion of three-year-olds is not a NIEER benchmark.
Research also shows that two years of preschool makes the largest impact for children who face barriers to success. Inclusion of three-year-olds is a strength of Oregon's preschool approach.
Competitive and fair teacher compensation is not a NIEER benchmark.
Low wages for preschool teachers undermine quality for children. In Oregon, Preschool Promise and Head Start have increased educator wages.
NIEER does not measure supports for quality from a resourced system.
States like New Jersey have seen success by taking a comprehensive approach to investing in preschool, workforce, and infrastructure. States that invest in preschool slots without supportive resources to ensure success are less successful.