Student Success Act (SSA)
Through the Student Success Act (SSA), Oregon will allocate $1 billion in new education investments each year. Thanks to a dedicated Early Learning Account and flexible Student Investment Account, school districts, Early Learning Hubs, and communities can use this money to expand access to early learning opportunities and help kids grow into active, engaged learners who are ready for kindergarten. The resources on this page will help ensure these investments go toward reducing disparities and supporting young kids and families.
Funding Early Learning to Reduce Disparities
Student Success Act (SSA) investments are allocated to three separate accounts. The Student Investment Account funds are to be used to meet students' mental and behavioral health needs, and to increase academic achievement and reduce disparities for: students of color; students with disabilities; emerging bilingual students; students navigating poverty, homelessness, and foster care; and other students who have historically experienced disparities. This can include funding for early learning. Funds from the Early Learning Account will go toward early learning opportunities for kids under 5.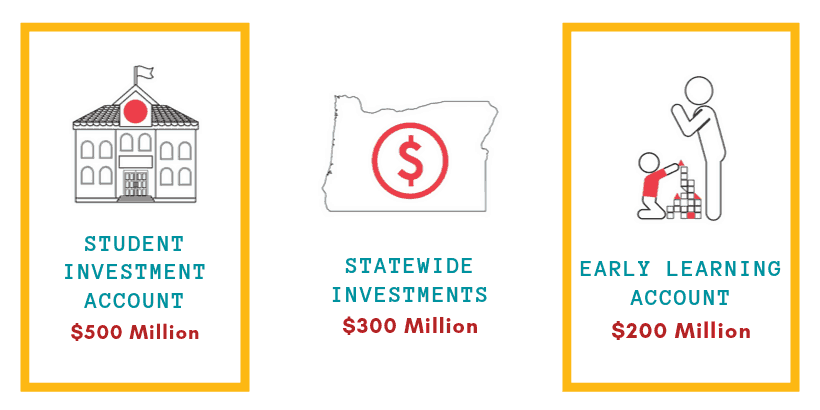 Programs and Services Funded by the Early Learning Account
​The Early Learning Account can be used to fund:
Early Intervention and Early Childhood Special Education
Early Head Start
Healthy Families Oregon
Parenting Education
Relief Nurseries
Oregon Pre-K
Preschool Promise
Early Childhood Equity Fund
Professional development for early childhood educators
Using the Student Investment Account to Support Early Learning
The Student Investment Account can be used to:
Reduce class sizes
Increase instructional time
Provide a well-rounded education to all students
Improve student health and safety
School districts must engage with their community to determine how to spend Student Investment Account (SIA) funds. If the community identifies early learning as a priority, districts can allocate SIA funds toward increasing access to early learning opportunities. Districts can partner with their Early Learning Hub to do this.
To ensure SSA funding goes toward the programs and services communities need, it's important for school districts and Early Learning Hubs to work together to engage their communities and set priorities to improve educational outcomes for children who have historically experienced disparities in Oregon's schools.
Watch this video to learn more about how hubs and districts can partner over the coming months to ensure SSA funds are put to the best use.
Implementing SSA
Early Learning Hubs and school districts each have specific activities and deadlines to meet over the coming months to ensure SSA investments meet the needs of their communities. This timeline provides a broad overview of those deadlines.

Obtaining Early Learning Account Funding
Funding to operate programs within the Early Learning Account is available through a Request for Application (RFA) process. The deadline to apply is April 2, 2020. Separate applications are required for each of the funding areas listed below. Applications and additional information are available on the Early Learning Division webpage.
Preschool Promise: This grant opportunity will expand the Preschool Promise Program to serve approximately 3,865 children. The Preschool Promise Program is a high-quality, publicly-funded preschool program that serves children ages three and four in families living at or below 200 percent of the Federal Poverty Level, children in foster care and children from other historically under-served populations. The program is delivered in a variety of settings including centers, homes, and schools.
The Early Childhood Equity Fund: This fund was created as part of the 2019 Student Success Act and will provide about $10 million annually in grants to support a broad range of culturally specific early learning, early childhood and parent support programs, including:
Parenting education
Parent-child interactions
Kindergarten transition
Tribal language preservation and revitalization
The fund aims to close opportunity gaps for children and families who experience systemic disparities because of any combination of factors, such as race, income, zip code, or language through funding early learning services rooted in culture, home language, and lived experience.
Oregon Pre-kindergarten: This program was created by the 1987 Oregon Legislature to provide comprehensive preschool services modeled after the federal Head Start program, adhering to the federal Head Start Program Performance Standards and the Head Start Act. Oregon modeled the Oregon Pre-Kindergarten program after Head Start to expand high-quality early learning opportunities for the lowest income and highest need preschool children from prenatal to five years.
In addition to the Student Success Act, House Bill 2025 extends the age range of Oregon Pre-Kindergarten services to include prenatal through age three services, allows for extended day services for preschool aged children, and includes requirements for lead teacher and teacher assistant salaries.
Preschool Promise Fiscal Agent: Oregon's Early Learning Division is inviting applications from interested and eligible entities to serve as Preschool Promise Fiscal Agents. Preschool Promise Fiscal Agents will be eligible to provide technical assistance to Preschool Promise Program Providers on a variety of business and administrative functions. Applicants must apply through this application which will be scored and reviewed against other applicants.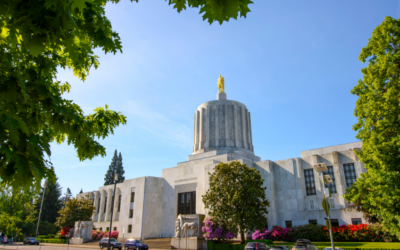 On June 25th, the 2023 Oregon Legislative session officially ended. Despite an unusual session and some legislative misses, we still achieved positive outcomes for young children with persistent advocacy and the hard work of Oregon's Early Childhood Coalition, and community partners. Although our work is never done, we are making progress. With each step, we continue to drive policies that help make Oregon the best place to be a kid.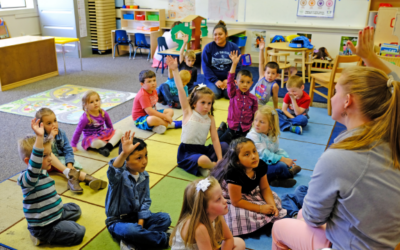 Preschool Promise is providing opportunities for more young children in Oregon to access high-quality early learning and care. In 2015, Children's Institute collaborated with 34 partner organizations to support Preschool Promise legislation. After its successful passage, the program launched in 2016 across nine regions, as a part of a larger statewide initiative to improve early childhood education, and partners with public and private providers to expand access to preschool and support the diverse needs of Oregon families.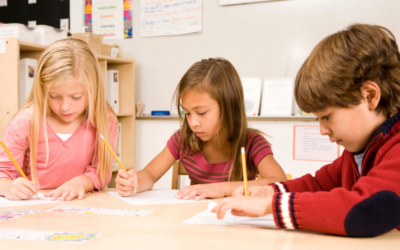 Oregon faces many crises right now, but the needs of our children should be an urgent priority in this legislative session. Investments in early childhood are among the most important investments we can make. And while Oregon has made progress in this area, we must continue to invest in and strengthen the opportunities we create for children and families across the state.