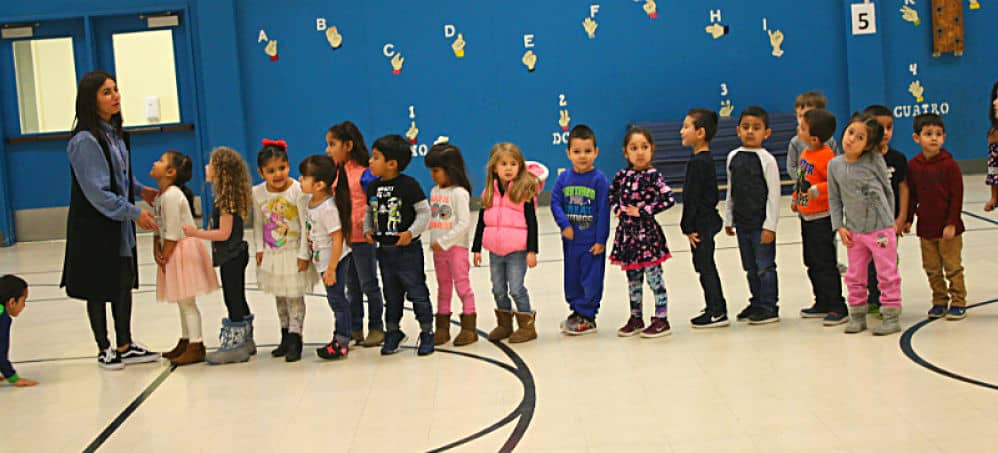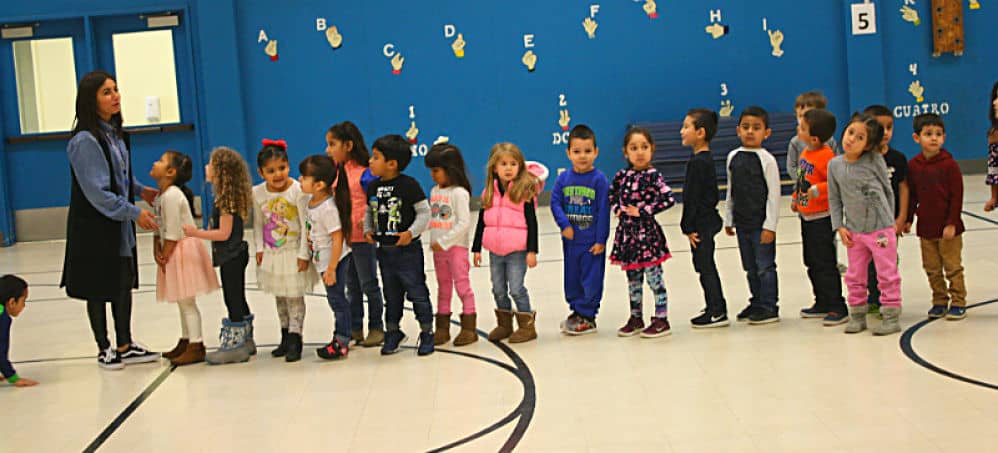 Echo Shaw's full-day preschool teacher, Cesiah Vega Lopez, gets her students organized in the gym.
Five years ago, educators at Echo Shaw Elementary School, 24 miles west of Portland, worried their students would be overwhelmed by the state's new, more intellectually challenging academic standards.
The Common Core standards would expect children to write more and master advanced vocabulary, multiplication, fractions, and linear formulas at a younger age. Kindergarteners used to learn about sides and corners of shapes, but now they'd be talking about vertices and angles.
Nine in ten of Echo Shaw's students, nearly all Latino, lived in low-income households, and two-thirds of them were learning English as their second language. Most showed up in kindergarten already behind.
"At some point you get exhausted trying to fill these (achievement) gaps at third and fourth grade," says Perla Rodriguez, Echo Shaw's principal since 2012. "This wasn't working for us."
So Rodriguez and her staff gave their students one big advantage—an earlier start. They launched a half-day preschool class.
Today, Echo Shaw serves 37 4-year-olds in half-day and full-day Preschool Promise classes, a state program for students from low-income homes. Most of them will enter kindergarten on the cusp of reading or actually reading, says Rodriguez. And because Echo Shaw is a dual language school, teaching 430 students up through grade eight in both English and Spanish, its preschoolers show up in kindergarten speaking two languages.
Echo Shaw, which sits on the edge of the small town of Cornelius, ranks among a small, but growing number of Oregon public schools—many of them serving high proportions of children from low-income families—who have found innovative ways to offer preschool. The Children's Institute has helped two elementary schools—Earl Boyles in East Portland and Yoncalla in the hills south of Eugene—launch early learning programs over the last seven years through its Early Works program. Six years ago, the Coquille School District on Oregon's coast opened its Lincoln Early Learning Center, which now includes two half-day preschool classes, a Head Start class, and an Early Head Start class for 2- and 3-year-olds.
Leaders in all of these schools know early education better prepares children for kindergarten and school success and can prevent the achievement gap that so often leaves kids from low-income families behind. What's more, investing early in education can reduce the costs of remediation and school failure.
State readiness tests show Echo Shaw's students on average are better prepared for kindergarten than children elsewhere in the district and state, says John O'Neill, interim superintendent of the 6,000-student Forest Grove School District, which encompasses 10 schools, including Echo Shaw.
"This speaks to not only knowing the academic skills, but also the social emotional skills that set them up for school success day one of kindergarten," he says. In addition, he says, offering preschool in a school district "begins a partnership earlier in a child's career between the home and the school."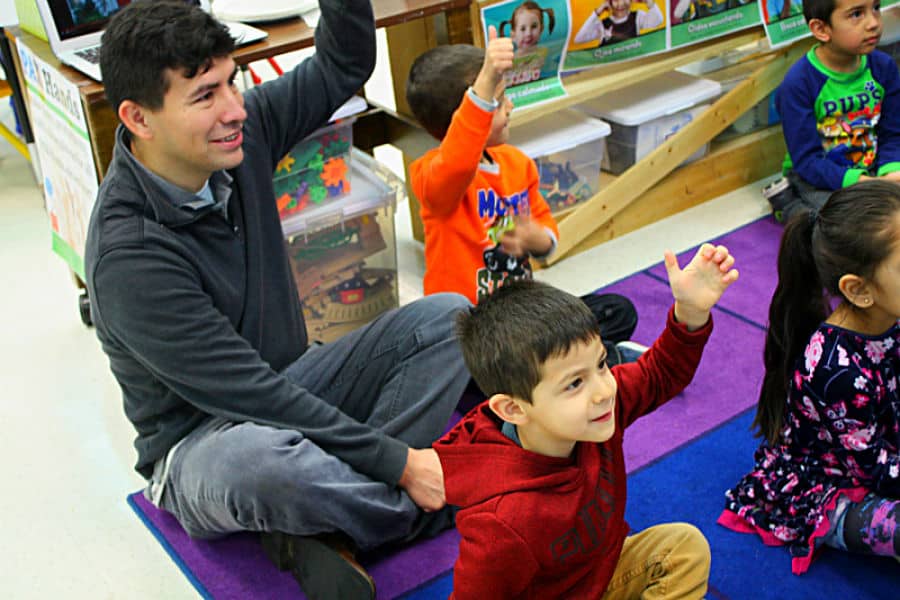 Echo Shaw parents say the preschool has given their children social and academic skills they are hard-pressed to teach at home with demands of work and family. Jesus Narnajo Gallardo, 32, volunteers in the class and sees his son, Daniel, thriving under the structure. Without this class, the father says, "it would be either a cell phone or the TV that would be teaching him."
Veronica Rodriguez Jimenez, 39, says her son, Jacob, is learning to share. "He is more social," she says. "He tries to interact with the                                                          Jesus Narnajo Gallardo and his son Daniel                                    others." He's learned English well                                                                                                                                                              enough to help other immigrants                                                                                                                                                            with translating, she says.
Scherise Hernandez, 39, says her 4-year-old daughter, Sady, can write her name, tie her shoes, and "she helps other children." Sady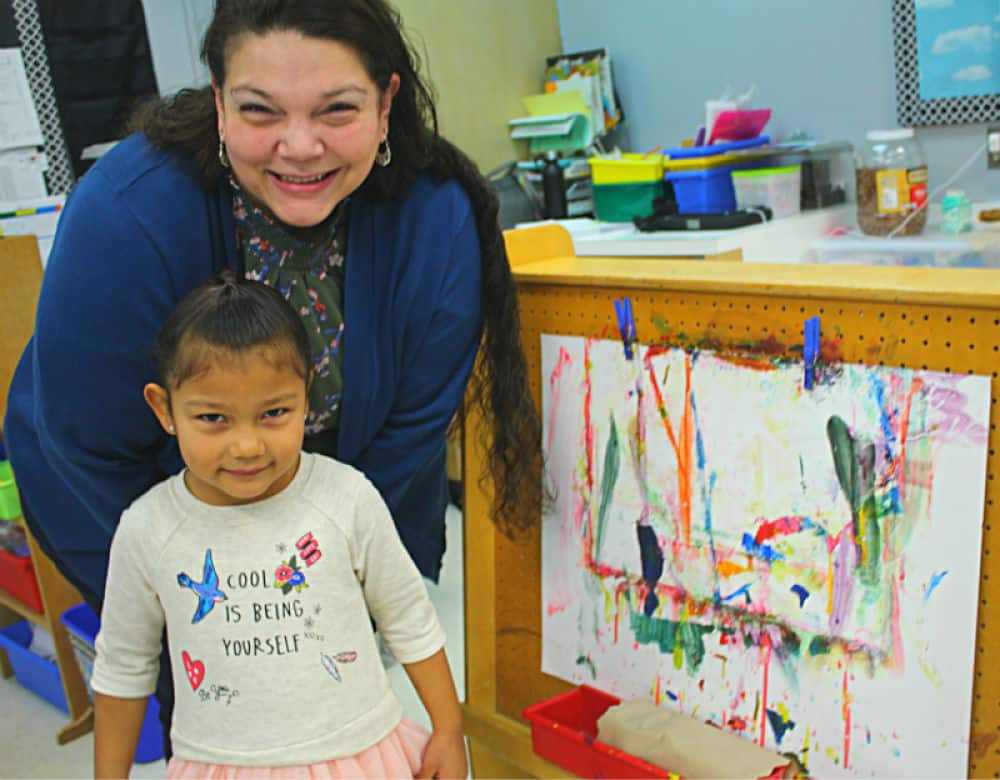 speaks Spanish at home, says Hernandez, but she "actually gets a lot of English" at school, and she's speaking it. Without the preschool, says the mother, Sady would probably be spending her time in daycare.
Echo Shaw's full-day Preschool Promise teacher, Cesiah Vega Lopez, says she sees herself as a facilitator. During "choice time" one January morning, for example, her students spread across the classroom to explore activities they pick—activities designed to develop their small motor skills while exposing them to letters, words, and color, shape, and number concepts. The room has the quiet hum of a busy office as children explore their interests. Dressed in a lacy pink skirt and a   white shirt bearing the words "Cool is being yourself,"                Four-year-old Sady speaks Spanish and English.                    Sady stands with several classmates around a table                                                                                                                        sorting through photographs of themselves. Four children sit at another table stringing beads over pipe cleaners. Nearby, four boys fit colorful plastic cubes together into beams and girders. A brown-haired girl alone at a third table copies the name Peyton on a white board with a black marker.
Student art and posters cover the walls. Books, toys, supplies, and bins of art fill shelves and cabinets. Everywhere there are words in English and Spanish. The light switch is tagged both with its English name and "el interruptor de luz." The foyer portrays the school's mascot with the words, "Home of the Eagles," and "El hogar de las aguilas." The phrases "We are safe" and "Somos cuidadosos," stretch over one gym wall.

Everywhere at the dual language school are words in Spanish and English.
Vega Lopez, 30, a licensed teacher now in her second year at Echo Shaw, knows the challenges many of her children face; she was born in Mexico, grew up in Forest Grove and learned English during her middle school years. About half her students speak Spanish at home. She teaches primarily in Spanish on Monday, Tuesday, and Wednesday and in English on Thursday and Friday. She teaches math in English, but science and social studies in Spanish. Her children are learning letter sounds, number concepts, and how to follow directions, express their feelings and self-regulate. She knows well what they must learn for kindergarten.
"I have the luxury of being able to visit the kindergarten teacher right next door to me," she says.
Oregon Department of Education test results last year showed Echo Shaw children in grades three through eight performing nearly at state average in math and English. About 40 percent of them exceeded standards compared to about half that many in Oregon schools with similar proportions of minority and economically disadvantaged children. The benefits of preschool have yet to be measured as Echo Shaw's first preschool graduates just reached third grade this year. But every grade at Echo Shaw is raising expectations for the better prepared students coming up from its preschool, say school leaders.
The dual language program has been so successful that a large number of seventh-graders are ready to take the college-level Advanced Placement Spanish course, says Superintendent O'Neill. "With a strong preschool foundation to work from," he says, "student outcomes will only be enhanced."
Rodriguez, the principal, personally knows the power of preschool because it helped shape her and her entire family. She grew up in Ontario, Ore., with parents who migrated from Mexico unable to speak English. She and her brother attended a federally-funded migrant Head Start program, which offered her mother wrap-around services, including driving lessons and a citizenship class. In time, her mother became a Head Start teacher and then director of a Head Start center. Rodriguez went on to earn her bachelor's degree in bilingual education at Boise State University, her master's in school administration at Concordia University in Portland, and her doctorate in education leadership at George Fox University in Newberg.
The principal has tapped a variety of funding sources to offer preschool at Echo Shaw. The school used federal migrant student support to pay for its first half-day preschool five years ago, which it expanded to three-quarters of a day in the following year. That meant, though, it could only serve migrant students in its preschool. In the third year, it was able to use both migrant and federal Title I money to offer two half-day preschool classes for all 4-year-olds. For this year and last, the school has used Title I money and support from Preschool Promise to offer a full-day and a half-day class. Last year, nearby Cornelius Elementary also started offering preschool with the help of a Preschool Promise grant. District leaders are exploring how to expand preschool district wide, O'Neill says. "There is definite support to do this," he says, "but funding is a barrier."
Rodriguez says she will continue foraging for every funding source she can find to keep her preschool thriving, and she hopes, expanding.
"It is not a silver bullet," she says, "but I believe the kindergarten readiness we see in our preK students is worth every penny that we have put into it."
Additional Resources on Preschool Promise
Toward Equitable Achievement in Oregon with Abdikadir Bashir Mohamud
Preschool Promise: Quality Preschool for Lane County Kids
Preschool Promise to Help Hundreds, Statesman Journal
Preschool Promise to Help 170 Washington County Children Attend Preschool, Early Learning Washington County