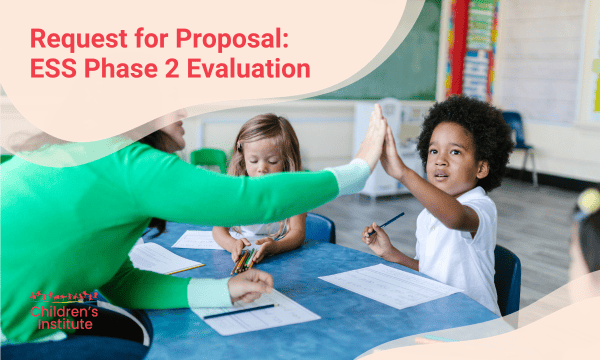 The Children's Institute (CI) requests proposals from qualified evaluators for the Phase 2 Program Evaluation of the Early School Success (ESS) Initiative. This evaluation aims to assess the ESS initiative's efficacy in enhancing early learning, fostering a unified pre-kindergarten to fifth-grade experience, promoting school success, and mitigating educational disparities. 
Evaluation Period:  
January 1, 2024 – December 31, 2025. Contracts are subject to annual renewal.  
Budgetary limits are set at: 
Year 1: $325,500.00 
Year 2: $340,000.00 
EVALUATION OBJECTIVES 
Children's Institute seeks an evaluation consultant to focus on the following Objectives in service of improving program performance, demonstrating accountability, informing decision-making, and generating new knowledge about program effectiveness and impact. 
Process and Outcome Measurement Tools: 

Design measurement tools for both process and outcome evaluation of the initiative;

 

Data Infrastructure for Alignment: 

Assist ESS District Teams in refining data infrastructure, ensuring better preschool to elementary alignment; and

 

Capacity for Measurement and Data Improvement:

Partner

strategically to enhance the CI team and ESS District sites' capabilities in Measurement & Data for Improvement. 

 
ABOUT THE EARLY SCHOOL SUCCESS (ESS) INITIATIVE 
The Early School Success (ESS) Initiative champions a unified approach to pre-k through fifth-grade education, emphasizing cohesive early learning strategies and an equitable learning environment. The objective is a seamless transition between preschool and elementary education, experienced as a singular, high-quality educational journey. ESS incorporates human-centered design and improvement science, empowering school teams to tackle the root of educational disparities and overcome ingrained barriers to success. The initiative mandates districts to challenge systemic racism, harness data-driven improvements, and commit to continuous learning. 
In the past five years, the Children's Institute along with a team of Community Design Partners consultants, has collaborated with two cohorts spanning four Oregon school districts, advancing the ESS vision. This engagement has involved top-tier professional development, guiding district and school teams in the rapid-cycle "Plan-Do-Study-Act" (PDSA) methodology, optimizing the synergy between preschool and elementary education. 
Following this half-decade, the Institute's focus is pivoting to fine-tune the existing model, ensuring districts maintain continuous improvement, and amplify effective practices. The Children's Institute envisions statewide adoption of ESS, recognizing its pivotal role in aligning and elevating early education. The forthcoming evaluation will be instrumental in this expansive progression.