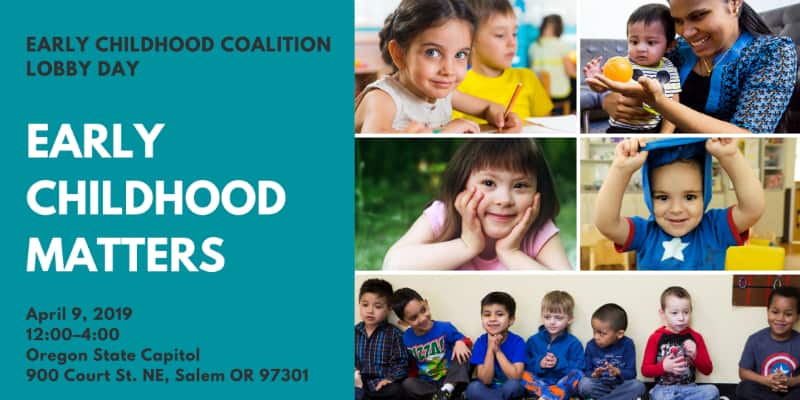 Early Childhood Lobby Day
On April 9, early childhood advocates from across Oregon are gathering in Salem to make sure our lawmakers know: Early Childhood Matters! During the 2019 legislative session, policy makers must prioritize young children and their families in budget and policy decisions. When we invest in young children and their families, whole communities thrive.
Please join us for Lobby Day. Let your state representatives know why early childhood matters to you.
Attendees of Lobby Day will be scheduled for conversations with their state representatives. Advocacy training will be provided in advance of the meetings and lunch will be provided in our assigned meeting rooms at the Capitol.
El 9 de abril, los defensores de la primera infancia de todo Oregon se reunirán en Salem para asegurarse de que nuestros legisladores sepan que: ¡La primera infancia es importante! Durante la sesión legislativa de 2019, los legisladores deben dar prioridad a los niños pequeños y a sus familias en las decisiones de presupuesto y política. Cuando invertimos en los niños pequeños y en las familias, la comunidad entera prospera.
Únase a nosotros para la jornada de cabildeo. Dígales a los representantes estatales por qué la primera infancia es importante para usted.
Los participantes de la jornada de cabildeo estarán programados para tener conversaciones con sus representantes estatales. Se proporcionará capacitación para la promoción antes de las asambleas y un almuerzo en nuestras salas de asamblea asignadas en el capitolio.